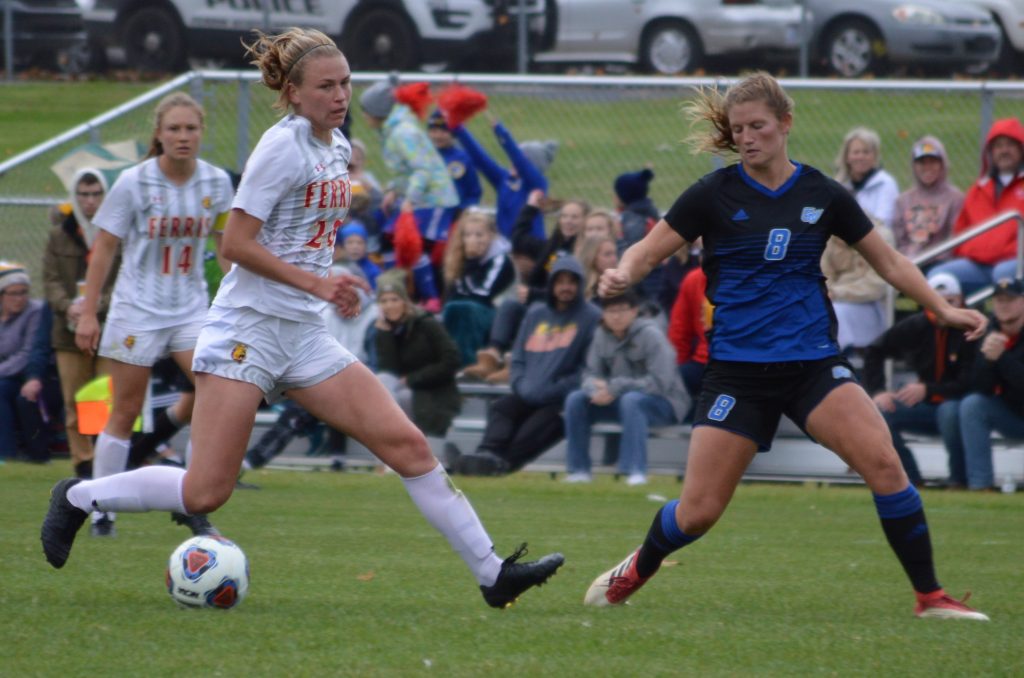 After the best season in school history, the Ferris women's soccer team was eliminated from the NCAA Division II playoffs in a 2-1 loss to Grand Valley State University (GVSU).
Coming into the Midwest Region Championship matchup Friday, Nov. 16, Ferris had faced the Lakers two other times: once during the regular season, as well as in the Great Lakes Intercollegiate Athletic Conference (GLIAC) tournament final. Ferris lost both of those matches and was looking for some revenge coming into their third matchup.
"It's a good group that Grand Valley has. They're able to do some things that make you change," Ferris soccer head coach Andy McCaslin said. "We tried to do something a little different to battle it. We handled it well for the duration of it, really. They were able to capitalize on a couple moments and we weren't able to get the second, which was unfortunate."
The Bulldogs got off to a very quick start, finding the board in the first minute of play off the foot of Ferris junior defender Tia VanSuilichem. That goal was the first the Lakers had allowed in their last four games. That would be the last time Ferris managed to get a shot on net in the first half. The Lakers eventually tied the game up at 1-1 30 minutes into the first half, leaving the score knotted up heading to halftime.
The Bulldogs pressured the Lakers in the second half, totaling four shots, an improvement of the one shot they had in the first. GVSU came out with an attack of their own, scoring the game winning goal with 20 minutes remaining to give them the 2-1 win.
"Really proud of this group and what they have been able to accomplish," McCaslin said. "When we recruit kids, we talk about doing things that have never been done, and this group really was able to buy into that. We were able to prove it and we took some really good steps this year."
The loss may sting for a bit, but the run that the team went on was unlike anything the program had witnessed. 2018 was the first time the Bulldogs reached the NCAA Division II tournament and they managed to win two games within the tournament.
Only four Ferris seniors are leaving this year: Ferris defenders Carley Dubbert, Erica Bartlett, Olivia Brewer and midfielder Alexis Schodowski.