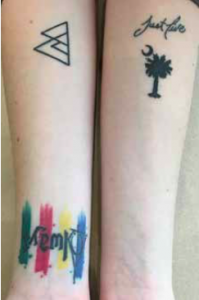 The Pew Research Center found that 36 percent of 18 to 29 year olds have at least one tattoo, but Ferris diagnostic sonography senior Taylor Flood is proof that one is never enough.
Flood, who has eleven tattoos, never actually saw herself getting them when she was younger. She has since changed her mind and decided to get her first tattoo with her mother.
"I was 16 and it was a birthday present. It was a really amazing experience because it was my first tattoo and I'm happy I could share that moment with her. It's really what started my addiction to the art and making sure my tattoos always meant something to me," Flood said.
Of Flood's many tattoos, a mandala piece she got on her sternum stands out because of the symbolism it means to herself, whereas many of her other tattoos she got with family and friends.
"It's like my second favorite just because it's my personal story. It helps keep me grounded because I feel like I need a string to keep me held to the here and now, and that's sort of the reason I got it, to stop me from looking so far ahead and stay focused on now because there is plenty of time to be there," Flood said.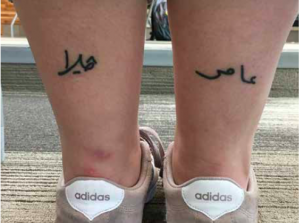 Ferris pre-pharmacy junior Sara Aljajawi believes that even when tattoos may match someone else's or was inspired from a stencil online, that tattoo is unique to the individual due to the personal experience.
"So the cross is on my wrist, and I got it when I was 16," Aljajawi said. "When my grandpa passed away, he gave me a rosary, so I got the cross from the rosary tattooed on my wrist as a memory, but also as a religious purpose, too, because it meant a lot to me and it was something he gave to me."
Aside from her cross tattoo, Aljajawi also has two other tattoos on the back of her legs to appreciate her parents.
"I also wanted something in Arabic to incorporate my culture, so I thought what better way than to have my parents write their names in Arabic," Aljajawi said.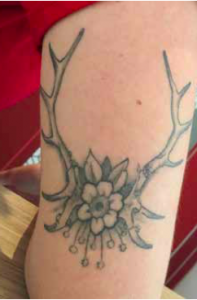 While tattoos were once considered a taboo form of body modication, they have since become a mainstream form of artwork today. However, some students feel that tattoos still have negative association.
Flood believes many people just misunderstand that those with tattoos are simply expressing themselves.
"It's very hard because I never thought I would be in that position where it would be, 'Well you have tattoos, so you must be crazy or so angry at the world,' and it couldn't be further from the truth," Flood said.
Because of this controversy, Ferris social work junior Tosha Cross, who has ve tattoos herself, says she's mindful of her tattoos' locations for employment purposes.
"I know a lot of people who find out I have tattoos say I don't seem like the type to have any tattoos. And my question is, 'Why is there a type?' I know somewhere down the line, jobs aren't really going to care about that – I mean, we're already getting away from that, but I will still only get tattoos where I can hide them," Cross said.
Each student also shares that they've gotten at least one tattoo done at Lighttouch Tattoo in downtown Big Rapids and would recommend it to others.
"I got them at Lighttouch. I took my friend there to get her first tattoo, my friend here got a tattoo from there and I've got my piercings there. I trust the place and I've seen their work and they're really clean," Aljajawi said.