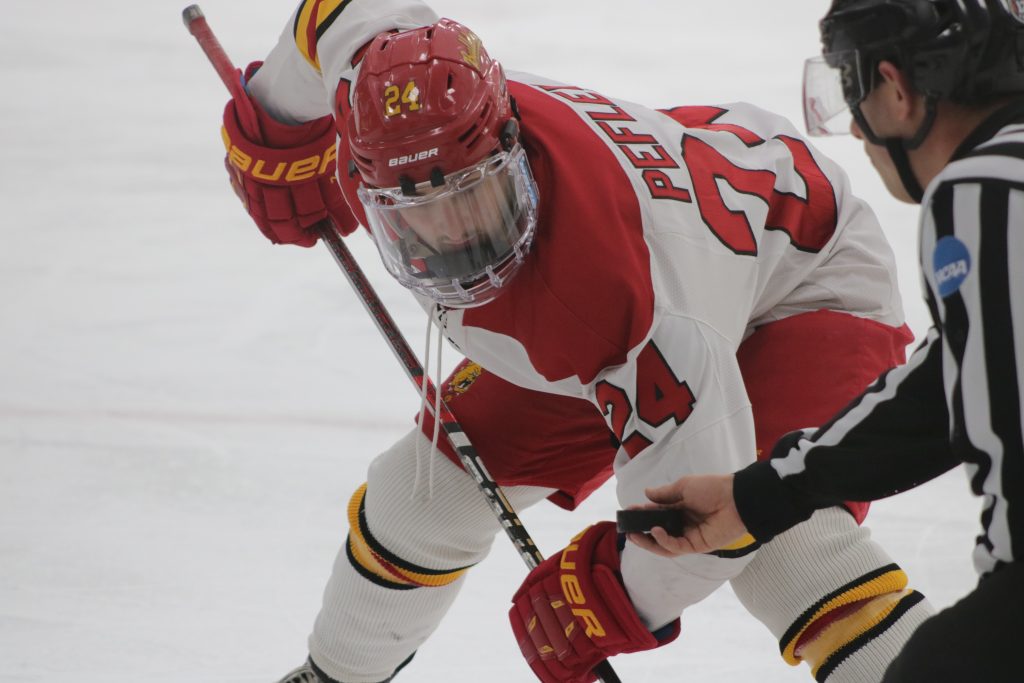 The Ferris men's hockey team suffered a 5-2 loss to Minnesota State University (Mankato, Minnesota), giving the Mavericks the weekend sweep.
The Bulldogs headed into the Saturday, Nov. 17, game following a 7-1 loss the night before. The Mavericks looked to have another high scoring game against the Bulldogs, while Ferris hoped to learn from their mistakes.
In the first period, Ferris came out with high spirits and energy, and it showed as they held the Mavericks off the score board. Unfortunately, the Bulldogs were unable to find the back of the net, leaving the game scoreless after one period. Ferris freshman goaltender Roni Salmenkangas stopped all 12 shots that he faced in that period.
The Mavericks were quick to score in the second, as Minnesota State sophomore forward Jared Spooner netted two back-to-back goals. The two goals opened up scoring opportunities for both teams, as the Bulldogs scored on a goal from Ferris senior forward Corey Mackin.
The Bulldogs would start the third period down by a goal, but the Mavericks added on an insurance goal within the first five minutes of the third to extend the lead to two. A two-goal lead is dangerous, especially in the final period, but Ferris sophomore forward Frankie Melton cut that lead down to one yet again, bringing the score to 3-2.
The Bulldog comeback would fall short as it did not take the Mavericks long to regain their two-goal lead, as they scored just one minute after the Bulldog goal. The Mavericks scored an empty net goal to make the final score 5-2.
The Bulldogs fall to 4-8 on the season, and now stand at 2-4 in the Western Collegiate Athletic Conference. Minnesota State improves to 9-1 on the year.
The Bulldogs are on the road again 11:07 p.m. EST Friday, Nov. 30, and Saturday, Dec. 1, as they face the University of Alaska-Anchorage (Anchorage, Alaska).