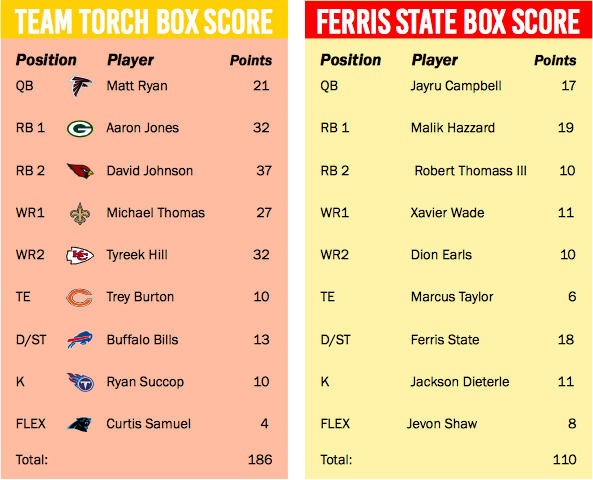 Team Torch extends our record to 6-4 with our best round of picks to this point, landing us a 186-110 victory over the Ferris football team this week.
The Ferris football team played William Jewell College (Jewell) in Liberty, Missouri, Saturday, Nov. 12, defeating the Cardinals in a 47-6 rout. We're used to seeing Ferris junior quarterback Jayru Campbell at the top of the scoring charts, but this week he took a backseat to the defense.
On the defensive side of the ball, the Bulldogs scored big, only allowing the Cardinals to post a field goal in each half. Altogether, the defensive side of the ball recorded three sacks, a forced fumble and a fumble return for a touchdown. That fumble return was courtesy of junior defensive end Austin Edwards and proved to be a play that would drive a dagger into any chance of a WJC comeback attempt.
Running the football was also very effective for the Dawgs, as senior running back Malik Hazzard posted two touchdowns. Three other Bulldogs found pay dirt on the ground as well, allowing the Bulldogs to control pace of play.
The Bulldogs completed their undefeated season, going 11-0, which earned them the No. 2 seed in the NCAA Division II Super Region Three. Ferris will play Harding University (Searcy, Arkansas) noon Saturday, Nov. 17, at Top Taggart Field.
We will also continue our battle with the Bulldogs until their season offcially ends. Since it is now the playoffs, we are free to select any player we have already used.
Here is the next round of picks.
QB – Aaron Rodgers – Green Bay Packers: I haven't picked Rodgers yet this year. Arguably the greatest
athlete to play the game at the QB position, he's sure to put up numbers.
RB1 — Ezekiel Elliott — Dallas Cowboys: Elliott likes to eat and we're talking yardage, not food.
RB2 — Saquon Barkley — New York Giants: Barkley is a lock for rookie of the year, slicing up defenses week after week.
WR1 — Antonio Brown — Pittsburgh Steelers: Brown is the best WR in the game right now.
WR2 — Larry Fitzgerald — Arizona Cardinals: Fitzgerald moved into the second spot in all-time receiving yardage last week. Look for him to keep chasing that No. 1 spot.
TE — Jordan Reed — Washington Redskins: Reed is a big man and Alex Smith will be looking to find him early and often.
D/ST — Los Angeles Chargers: The Chargers have surprised many with their 7-2 record. The defense has been a big help.
K — Justin Tucker — Baltimore Ravens: Tucker missed his first career extra point this season. That's one miss in 227 attempts, which is impressive, to say the least.
FLEX — Christian McCaffrey — Carolina Panthers: McCaffrey is shift between the tackles and he can catch the ball. That's dangerous for a struggling Detroit Lions defense.