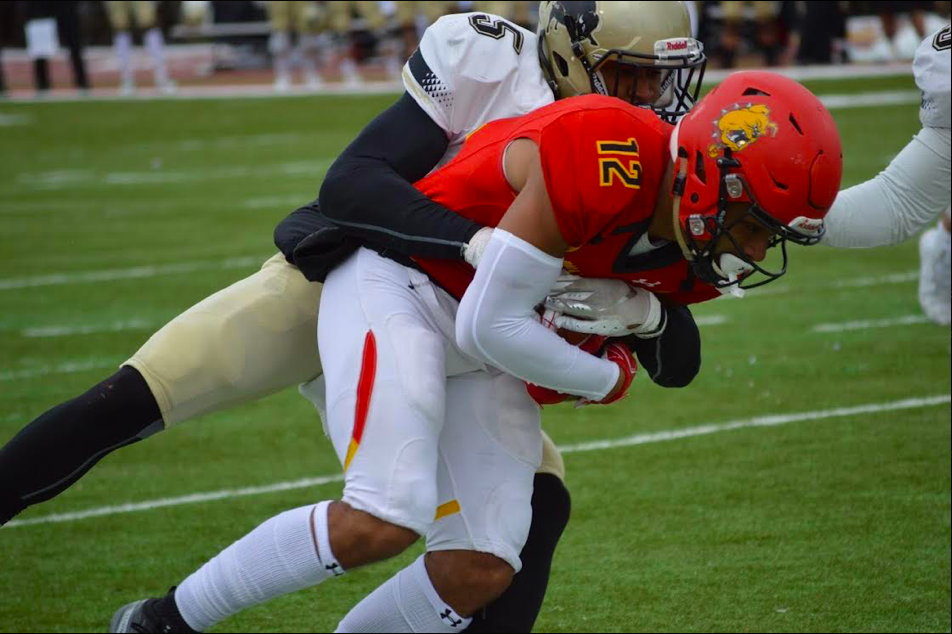 The 'survive' element of survive and advance came into play for the Ferris football team as they defeated Harding University (Searcy, Arkansas) Bison 21-19 Saturday, Nov. 17.
The No. 2 nationally ranked Bulldogs headed into the NCAA Division II Super Region Three Quarterfinals looking for revenge. Ferris was upset by the No. 3 nationally ranked Bison in last year's Regional Championship after Harding hit a game-winning field goal.
"Harding knows how to play football," Ferris football head coach Tony Annese said. "Their defense is one of the best, we knew that going in. I told my staff this is the best defense we'll face this year."
The Bulldogs dominated the first half of play. Ferris junior slot receiver Jevon Shaw found the endzone midway through the first quarter on a five-yard run to put the first points on the board.
Ferris junior quarterback Jayru Campbell added two first half touchdowns, one on a two-yard pass to Ferris sophomore running back Marvin Campbell and the other on a one-yard quarterback keep.
Ferris' defense was not allowing the Bison to do much offensively in the first half, heading to the lockers with a goose-egg on the visitor-side of the scoreboard.
Neither team scored in the third period after exiting the locker room, giving the Bulldogs a 21-0 advantage heading into the final quarter of play.
"We took survive and advance to a whole different level there, so we talked about it and went into the game, and that's all there is to it. No stat sheet, no circumstances, no discussion about this or that about the game. It was survive and advance," Annese said.
The fourth and final quarter saw the Bison mount a fierce comeback attempt lead by Harding sophomore running back Taylor Bissell. Bissell scored two touchdowns on the ground, while Harding sophomore Cole Chancey added a rushing touchdown as well. A missed extra point and failed two-point conversion put Harding behind by just two points.
The Bison had one final chance to take the lead in the final quarter as they received the ball with 7:02 remaining. Harding brought the ball to midfield after starting at their own 38-yard line. The Bulldogs forced a fourth down after two crucial tackles by Ferris junior linebacker Avonte Bell. An incomplete pass gave Ferris the ball and a chance to run the victory formation to end the game.
"Let me tell you, I am really really proud of my men the way they competed, the way they battled," Harding football head coach Paul Simmons said. "I don't think that we got beat, we just ran out of time."
Add another win to Ferris' undefeated record, pushing them to 12-0 on the year. The Bulldogs will advance to the NCAA Division II Super Region Three Semifinals and host Northwest Missouri State University (Maryville, Missouri) Saturday, Nov. 24, at Top Taggart Field.
"Everything is different, it's win or go home," Bell said. "I'm always confident in my team. It's always Ferris State for me. Ferris versus everybody."