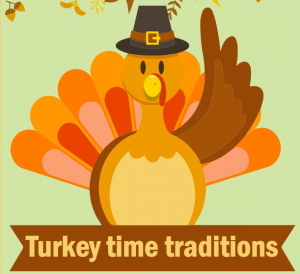 With Thanksgiving quickly approaching, Ferris accounting senior Savannah Dunham and many other students are making their holiday plans.
"I am spending Thanksgiving Day with my dad and aunt in Ohio," Dunham said. "Then, my fiancé is flying to Michigan from Kansas where he is based in the Army. I will be spending the rest of the weekend with him."
During Thanksgiving break, Dunham also observes the tradition of watching both the Lions Thanksgiving game and the Michigan vs. Ohio State game Saturday with her family.
"The Michigan Wolverines have not beat the Ohio State Buckeyes since 2011. I was home in Michigan that year, so by breaking my tradition this year and watching the game in Michigan, I'm hoping that they will win again," Dunham said.
While Dunham hasn't broken tradition in a while, she sees more changing traditions in the future due to graduation, moving, making friends and getting married.
"I always spend Thanksgiving with my family. This year, I would like to get together with some friends for a Friendsgiving, as well," Dunham said.
Ferris HVACR freshman Kimberly Sikkema is another student who will be giving thanks for friends and family in both old and unique traditions.
"My Thanksgiving plans are to wake up in the morning and I'm going to do the Turkey Trot, which is an 8K, a run. Then I am going to my uncle's house for Thanksgiving lunch and then my grandma's house for dinner," Sikkema said.
Sikkema started doing Turkey Trots after she graduated high school with her cross-country team.
Ferris television and digital media production junior Daniel Laroche loves to use the holiday as a time to see his family, but says he would participate in Friendsgiving if the holiday was before or after.
"But actually, Thanksgiving itself… if i don't come home for that, there will be, like, an air strike up here taking me out," Laroche said. "Like, that's the level of wrath that occurs."
Laroche says one of his fondest memories is spending the holidays with his close family, grandparents, aunts and uncles.
"They go and bring their little pug, and then we all just hang out in this garage with a wood heater. Just hanging out with my family, playing with the dog and a tiny old TV they dragged out. It's just a good ol' rustic time," Laroche said.