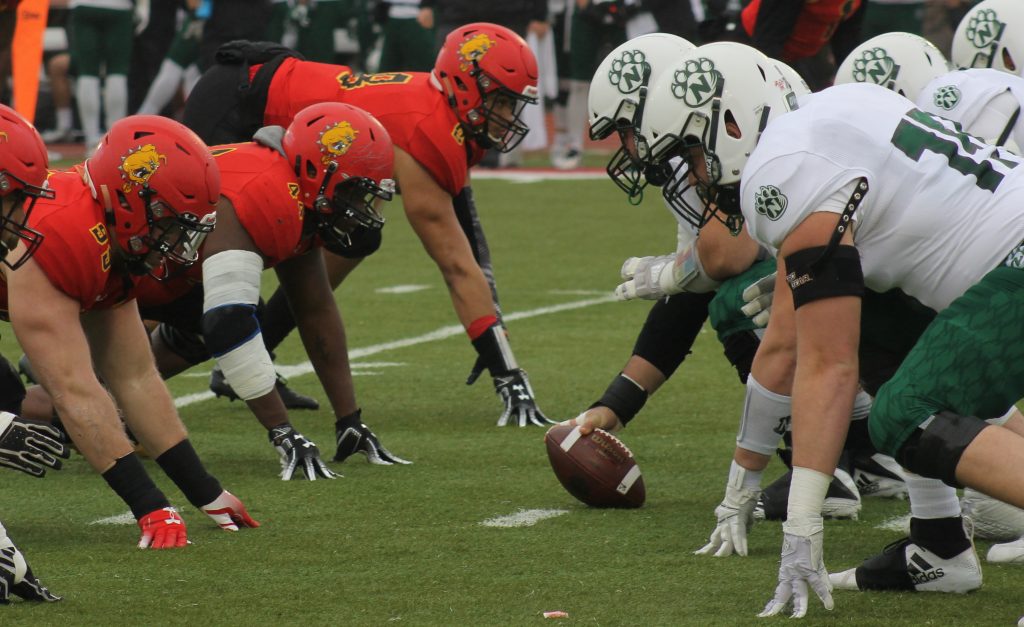 The Ferris football team continued its journey to an NCAA Division II National Championship, but this time they took the field without their starting quarterback.
Ferris junior quarterback and Harlon Hill Trophy candidate Jayru Campbell was a surprise scratch from the 27-21 victory Saturday, Nov. 24, in the NCAA Super Region Three Semifinals action with the Northwest Missouri State University (Maryville, Missouri) Bearcats. Campbell was sidelined with a shoulder injury sustained in the Bulldogs' 21-19 victory over Harding University (Searcy, Arkansas) the week before.
"It happened in the second quarter last week," Ferris head football coach Tony Annese said. "It's insane. You know, normally when you lose your quarterback, you might lose some of the mental toughness. You know, like the confidence, the swag, the belief that we're going to be alright. We didn't waver. Nobody on this team wavered."
With Campbell on the bench, Annese got creative and utilized three different quarterbacks, with Ferris junior Travis Russell receiving most of the snaps under center.
"Travis had to wait a long time," Annese said. "I saw the pain in his eyes throughout the season waiting for his opportunity, and the opportunity presented itself and he took full advantage of it."
Annese's creative scheme came to fruition on the first play of the game, as Ferris junior slot receiver Jevon Shaw delivered a 71-yard bomb pass to Ferris redshirt freshman receiver Sy Barnett. The Bulldogs capped that drive off with a two-yard touchdown run from Ferris sophomore running back Marvin Campbell. The offense continued to move well in the first half, heading to the lockers with a 20-7 lead.
The Bulldogs struggled heading into the third quarter, as Russell tossed an interception that was returned for a touchdown by Missouri senior defensive back Jack Richards. The two teams battled back and forth for the remainder of the game, until the scoreboard read 27-21 with just 13 seconds remaining.
The Bearcats' last hope rode on the leg of Missouri sophomore kicker Parker Sampson, who attempted an onside kick that his team recovered. Ferris sophomore defensive tackle Austin Simpson ended the game, however, sacking the Bearcats' quarterback and forcing a fumble that was recovered by the Bulldogs with all zeroes on the timer.
Ferris improves to 13-0 on the year, while Missouri falls to 10-3 to end their season. The Bulldogs will continue to monitor the status of Campbell, but hope to have him available for the NCAA Division II Regional Championship.
The Bulldogs will be on the road for the first time this post-season, as they take on Ouachita Baptist University (Arkadelphia, Arkansas) 1 p.m. Saturday, Dec. 1.