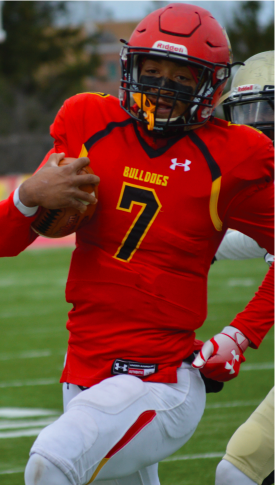 The Harlon Hill trophy, awarded to the Most Valuable Player in the National Collegiate Athletic Association (NCAA) Division II, may be coming back to Ferris thanks to junior quarterback Jayru Campbell.
Campbell placed himself in the Ferris single-season record books in the 2018 season, as he currently sits at first in yards of total offense with 3,672, first in touchdowns responsible for with 43 and 9.8 total yards of offense per attempt. Campbell's ability to make plays with his arm as well as his legs have made him dangerous to opponents all year.
During the regular season, Campbell attributed 2,368 passing yards as well as 1,162 rushing yards, making him responsible for 62 percent of Ferris' total yardage.
Campbell benefts from great offensive line play, a unit he credits for much of his success. A big part of that offensive line has been Ferris senior tackle
Devon Johnson who was named Great Lakes Intercollegiate Athletic Conference Offensive Lineman of the Year.
A long journey for Campbell started with back-to-back high school state championships at Detroit Cass Tech in 2011 and 2012. From there, Campbell was offered several Division I offers, including
Alabama and Notre Dame, before he ultimately chose Michigan State University (MSU). In January of 2014, however, Campbell was arrested after video went viral of him slamming a Cass Tech. security guard to the floor.
Campbell lost his scholarship to MSU but found his way to Garden City Community College (Garden
City, Kansas), where he made his collegiate debut in 2015. Campbell helped lead the Garden City Broncbusters to a Junior College National Championship in 2016 before leaving for Big Rapids.
After serving one year as a redshirt in 2017-18, Campbell found himself in the middle of a quarterback competition as Ferris head coach Tony Annese searched for Reggie Bell's replacement.
Campbell ultimately won the job and hasn't looked back since.
Now Campbell is driving the Bulldogs toward a Division II National Championship, something that the program has never been able to accomplish, even when Ferris alum Jason Vander Laan brought home the Harlon Hill trophy back-to-back in 2014 and 2015.
Comparing statistics from 2014 and 2015 when Vander Laan won the Harlon Hill, the quarterbacks seem to have very similar stat lines. Vander Laan threw for 2,140 yards in 2014 and 2,239 yards in 2015, both less than what Campbell has thrown this season. For the ground game, Vander Laan rushed for 1,328 yards in 2014 and 1,319 yards in 2015, which has a slight edge over Campbell's total from this season.
The difference is that Campbell faces steep competition in the other 36 candidates for the Harlon Hill Trophy. One man that stands out is Bowie State University (Bowie, Maryland) senior quarterback Amir Hall. Hall stands atop the NCAA Division II leaderboard in passing yards with 3,865 and is sixth in the nation with 29 passing touchdowns. Tack on 445 yards rushing for Hall and he edges out Campbell in yards of total offense.
The Harlon Hill Trophy winner is set to be announced Friday, Dec. 14, but Campbell and the Bulldogs are focused on advancing past the Elite 8. Ferris will take Ouachita Baptist University 1 p.m. Saturday, Dec. 1, in Arkadelphia, Arkansas, for the right to advance to the Final Four.