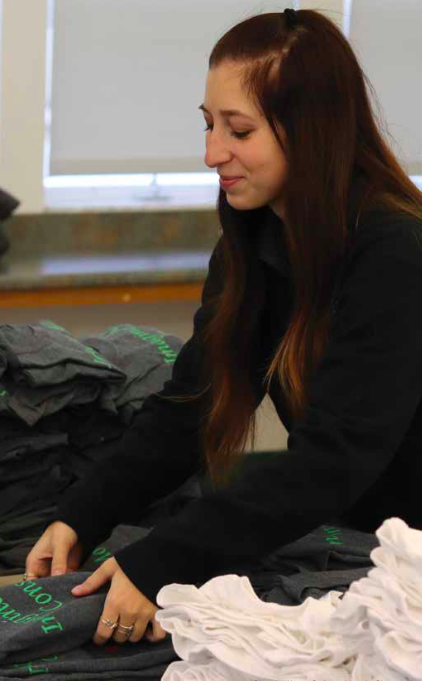 The Student United Way Campaign held a rummage sale in the West Campus Community Center where students and staff were invited to purchase items that had been donated earlier that week.
Items like clothing, household items, cooking utensils and children's books were available during the Nov. 16 sale. Any items that were not sold that day were donated to 27 local Big Rapids businesses, such as Salvation Army, to be sold there.
"It's really nice to be able to go out and do different things and raise money for United Way, which is such a great organization, and they give back so much to Big Rapids and Ferris itself," Ferris criminal justice and psychology senior and Student Government Director of Philanthropy Tess Strasser said.
Bulldogs are encouraged to visit the Volunteer Center in the Center for Leadership, Activities and Career Services, regardless of their field of study.
"I think this is a way to put something that might be someone's 'rummage' to make it someone else's treasure," Ferris biology junior Ciara Kibby said. "It felt really good to help with something that helps others."
Each year, the Volunteer Center holds a fundraising campaign for United Way. They host events, such as the Student Business Expo and the Winter Crafts and Bake Sale, where students can donate to the campaign. These funds go to several nonprot groups and community service programs in the Mecosta and Osceola counties.
"Without this financial support from United Way, many programs would not be able to operate," Career and Volunteer Center coordinator Michele Albright said. "We would love for the community to know that students from Ferris State University care and want to make a difference for others."
The fundraising campaign has raised around $1,500 so far, half of their $3,000 goal. However, Albright said that raising these funds can be challenging.
"Fundraising is always difcult on a college campus because students generally do not have much cash on hand," Albright said. "Therefore, it takes a lot on creativity and multiple efforts to pull in a little bit of money at a time.