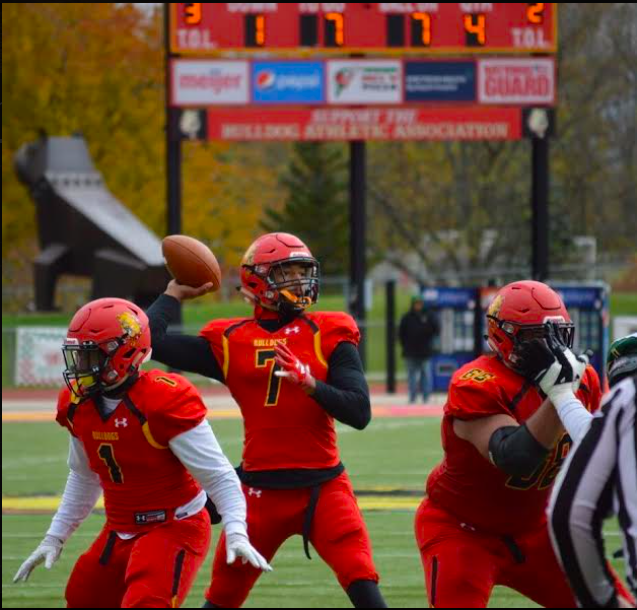 The biggest stop in Ferris football's "Revenge Tour" will happen this weekend when the Bulldogs travel to Arkadelphia, Arkansas, to take on the Ouachita Baptist University Tigers.
The Bulldogs enter the matchup Saturday, Dec. 1, with a chip on their shoulder after the NCAA awarded them the No. 2 seed, a move that surprised many considering Ferris finished their season 11-0 and was ranked No. 2 nationally. The No. 1 seed was instead awarded to Ouachita Baptist who also finished 11-0.
The NCAA cited that Ferris' use of ineligible sophomore defensive tackle Dan Perry in the first four games of the season was the main factor for lowering the Bulldogs to the No. 2 seed.
Seeding aside, the Bulldogs will have their hands full against a dominant Ouachita Baptist defense that has only allowed 9.42 points per game to this point. One player to keep an eye on is Ouachita sophomore defensive lineman Dameyun McDonald, who has recorded 4.5 sacks on the year and keeps constant pressure on opposing quarterbacks.
The good news for the Bulldogs is that it appears Ferris junior quarterback Jayru Campbell will be back in action after being sidelined with a shoulder injury the week before. Campbell was a full-go in practice on Thursday and received the majority of first-team reps.
Campbell, to the surprise of nobody, will need to be heavily involved both on the ground and through the air if the Bulldogs hope to pull off an upset at the Tigers' home stadium.
Saturday will not be the first time the Tigers and Bulldogs have faced off, as the two teams met in the first round of the 2017 playoffs. Ferris came out with a 24-19 victory in that game.
If the Bulldogs can pull out a victory, they will advance to the Final Four, where the remaining teams will be re-seeded.
Fans can listen to Saturday's broadcast on Sunny 97.3 FM and the Bulldogs Sports Network. Ouachita Baptist will also provide a free live-stream of the game with links available on ferrisstatebulldogs.com.
Kickoff will take place at 2 p.m., Saturday, Dec. 1, from Cliff Harris Stadium in Arkadelphia, Arkansas.