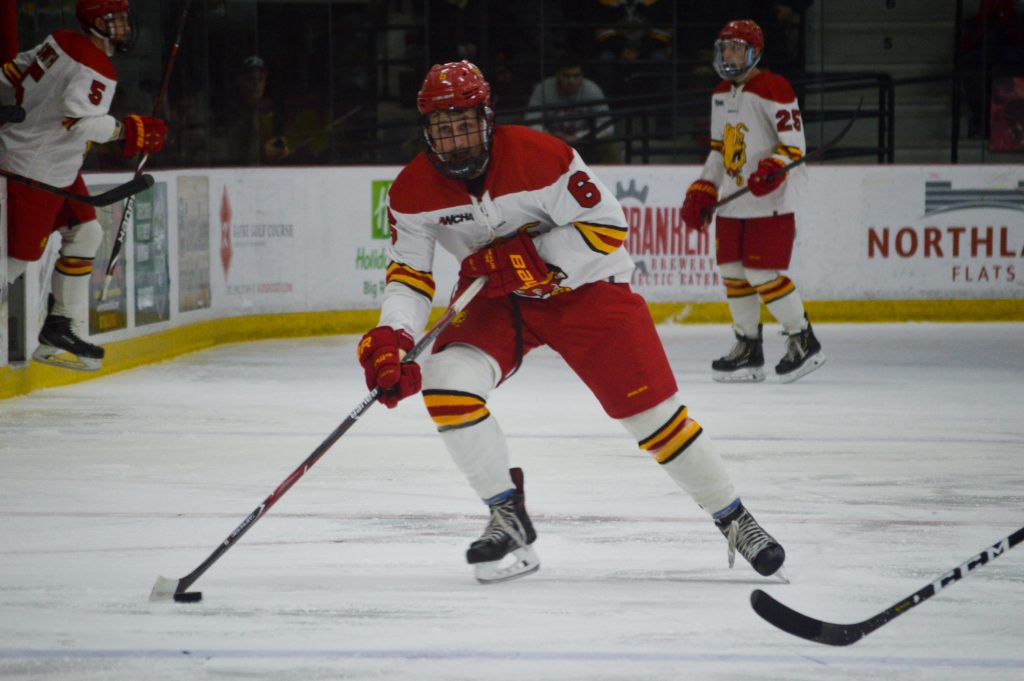 After a week off, the Ferris hockey team found themselves back in the loss column after they were defeated by the University of Alaska Fairbanks Nanooks in overtime 4-3.
Heading into the game Friday, Nov. 30, the Bulldogs had lost four straight and five of their last six games while being outscored 27-17. Now that most games the Bulldogs are playing are in-conference, it is important to start out strong, so they don't have to play catch up. With having a full week off during Thanksgiving break, the Bulldogs looked to put their losing streak behind them and focus on the task ahead, which was traveling around 3,500 miles to Alaska Fairbanks.
Both teams started off slow in the first period, with Ferris having a slight edge offensively, outshooting the Nanooks 10-5. Ferris freshman goaltender Roni Salmenkangas kept the game even at zeros more than halfway into the period with a big glove save. A late Ferris attack did no justice as the game was scoreless after one.
The Bulldogs hoped that this game was not a recurrence of the last time these two met in Fairbanks Feb. 3, 2018. Just like Friday's game, this one was scoreless after the first period but a surge in the second and third from the Nanooks made them victorious with a score of 4-1.
The scoring drought ended quickly into the second, as the Nanooks got on the board first but would open the floodgate for more goals to come. A little over two minutes later, Ferris sophomore forward Coale Norris made things even at one goal apiece, coincidentally the same score at one point in the second of the game last February. The tie game would not last long, however, as Alaska Fairbanks junior defenseman Tristan Thompson pushed them ahead 2-1. After a handful of penalties committed by both teams, including a major penalty served by both Ferris and Alaska, Ferris junior defenseman Nate Kallen recorded the team leading 11th point and had the game tied up 2-2, ending the second period.
Just like the start of the second period, the Nanooks broke the tie to regain the lead for the third time at 3-2. This forced the Bulldogs to play from behind yet again to try and make things even, which Ferris freshman defenseman Cooper Zech did in the closing minutes of the third period. Regulation time was not enough for these two teams as they headed to overtime, the first time the Bulldogs have played in overtime during the regular season in over a year.
The Nanooks came out shooting and buried the puck in the goal just 21 seconds into the overtime period, defeating the Bulldogs 4-3.
The Bulldogs are back in action 11:07 p.m. Saturday, Dec. 1, where they will try and even the series against the Nanooks.
Click here to read more about Ferris hockey.