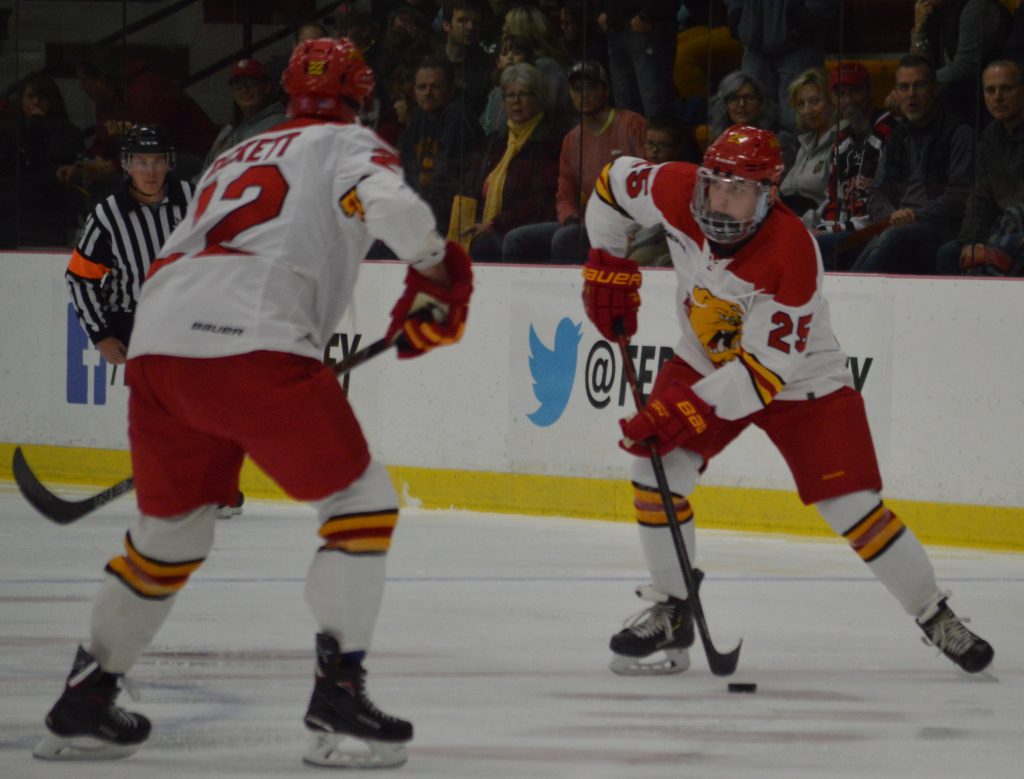 The Ferris hockey team did not have much to show for a weekend road trip to Fairbanks, Alaska, coming out with a 6-2 loss and giving the University of Alaska Fairbanks (AKF) Nanooks a series sweep.
The Bulldogs headed into Saturday, Dec. 1's matchup hoping to earn a split after a close 4-3 overtime loss the night before. Unfortunately, the score never tilted in favor of the Bulldogs as the Nanooks took a 1-0 lead just three minutes into the first period and continued to build through the rest of the game.
Ferris senior forward Corey Mackin managed to put the Bulldogs on the board in the first period, but by that time, the Nanooks already had a two-goal advantage. Ferris' next, and final, goal came in the third period on an unassisted shot by Ferris freshman defenseman Cooper Zech.
The Nanooks scored quickly in each of the three periods, with one goal within the first five minutes in every period. Ferris' offense struggled to answer back, despite a glaring advantage in shots on goal, as the Bulldogs led that category with 36 compared to the Nanooks' 22.
Goalkeeper play was not a strength of the Bulldogs either, as freshman goalkeeper Roni Salmenkangas saved 16 shots over nearly 60 minutes of play. AKF freshman goalkeeper Gustavs Grigals had an outstanding game on the other hand, saving 33 shots.
AKF outplayed Ferris at even-strength, scoring four of their six goals without the help of special teams. AKF freshman forward Kylar Hope had a huge game for the Nanooks, scoring a goal in garbage-time and adding two assists as well.
The Bulldogs now drop to 4-9 on the year and will need to turn things around quickly if they hope to keep pace in the Western Collegiate Athletic Conference (WCHA). AKF improves to 4-10-2 on the year.
Ferris will return to Jim Wink Ice Arena to take on Bowling Green State 7:07 p.m. Friday, Dec. 7.