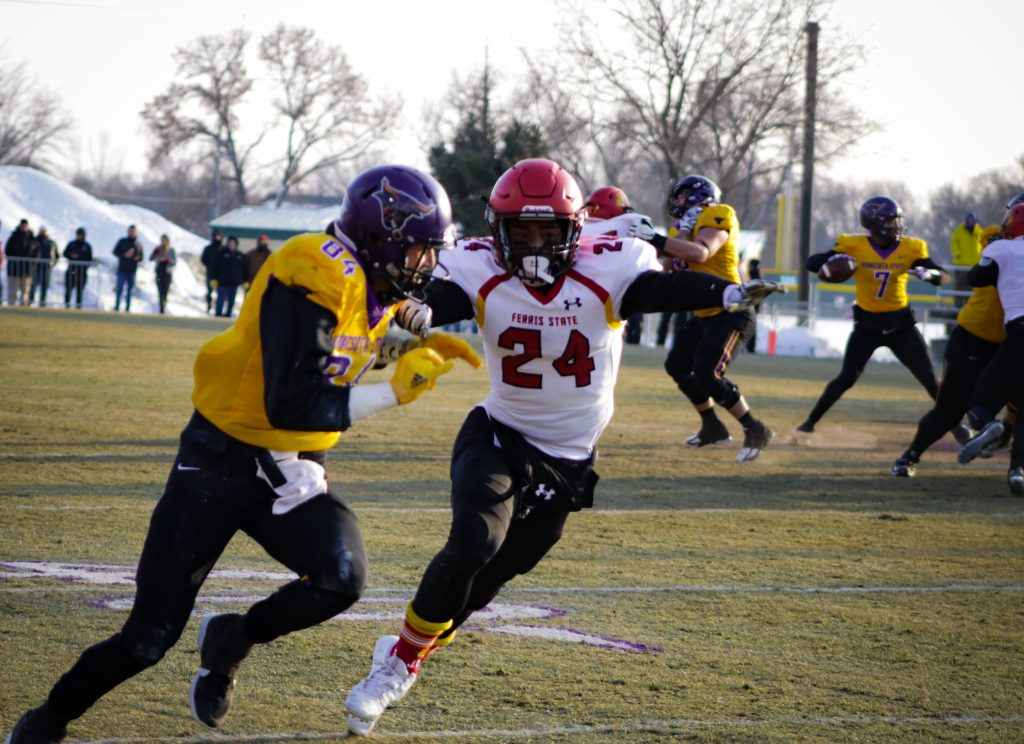 Ferris came into the National Collegiate Athletic Association (NCAA) Division II National Semifinal game with a mighty tall task ahead of them.
Not only did they have to go up against the team that had been ranked No. 1 in the nation all season long, but they also had to play them in Minnesota. On top of that, they had the pressure of trying to finally break through and reach the program's first National Championship game.
Saturday, Dec. 8, in their third semifinal appearance of the last five seasons, the Bulldogs finally broke through against the Minnesota State Mavericks at Blakeslee Stadium in Mankato, Minnesota by a score of 42-25.
Don't let the score deceive you though, as this one was a dogfight with the two teams returning blows back and forth before the Bulldogs made the big plays to pull away late.
The first blow came when the Mavericks drove 80 yards to get take a 7-0 lead on a three yard scamper by sophomore quarterback J.D. Ekowa.
However, the Bulldogs answered quickly on their next drive, getting a 40 yard touchdown run courtesy of Ferris sophomore running back Marvin Campbell.
At halftime, it was 21-19 in favor of Ferris and both teams felt like they had a chance, as they both had overcome obstacles to reach that point.
That is how the game went over the first three and a half quarters, as it was 28-25 with just under six minutes left in the game.
That is when the Bulldogs stepped up and put this game away. With just over five minutes remaining in the game, Campbell got his second touchdown of the afternoon on a one yard dive, giving Ferris a 35-25 lead.
Then, on the Maverick's first play on their ensuing drive, Ferris junior defensive end Austin Edwards stripped Minnesota State quarterback Ryan Schlicte, and Ferris junior defensive tackle Sam Girodat pounced on the ball, giving the possession back to Ferris. During the very next play, Ferris senior running back Derrick Portis ran it in from 19 yards out to put the game away with the score at 42-25. Ferris junior defensive back DeShaun Thrower made it official with an interception with a minute left in the game.
The Mavericks overall played a decent game, but were turned in by a pair of untimely fumbles.
In this one Ferris was led by a few standouts. Ferris junior quarterback Jayru Campbell dazzled with 251 yards passing with a pair of touchdown tosses, while adding 103 yards on the ground. Ferris freshman wide receiver Sy Barnett also had an exceptional game, as he had 91 receiving yards on four catches, as well as a two-yard touchdown run.
Defensively, the Bulldogs were led by Edwards, who had 10 total tackles, a tackle for loss and a forced fumble.
The win over the Mavericks allows Ferris to compete in the NCAA Division II National Championship Game for the first time in school history. Their opponent will be undefeated Valdosta State University (Georgia). The game will take place Saturday, Dec. 15, in McKinney, Texas.
For coverage of the NCAA Division II National Semifinals and National Championship, click here.