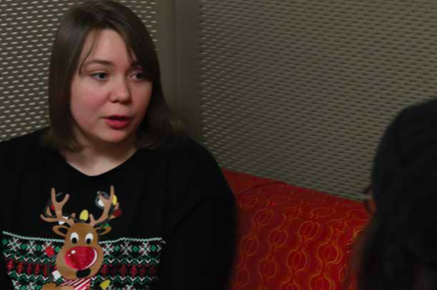 LGBTQ+ students have found a community at Ferris through events put on by the LGBTQ+ Resource Center, such as their weekly coffeehouses.
Ferris digital animation and game design sophomore Andrew Mende said he was a part of an LGBTQ+ group at his previous school, which ultimately drove him to apply for a job at the center once he was on campus. "I feel more comfortable about myself now that I work here. It's really boosted my confidence, and I think it's done that for a lot of people. I see a lot of community here, and I see a lot of people meeting each other, becoming friends and interacting," Mende said. "Being here means I'm not alone. It means that if I ever need anything, the people here can be there for me and I can be there for them. It's a good security to have."
Established this past spring, the LGBTQ+ Resource Center's objective is "to promote understanding, acceptance, and visibility of the LGBTQ+ community by creating, educating, and advocating, and nurturing a healthier and compassionate environment for all," according to their website.
Ferris television and digital media production sophomore Emily Perry said the center is a place that has knowledge and resources for people looking for all kinds of information.
"I absolutely love it. I try and go to all of their events, and it's a lot of fun. I get to meet a lot of people, and I hopefully get to help them," Perry said.
Perry is also Vice President of Advocacy and Education of Gender Identity and Sexuality (AEGIS). AEGIS is a registered student organization (RSO) at Ferris that advocates for LGBTQ+ students.
"I like to be involved with the center, and the community and outreach on campus, in hopes of educating more people, creating a safer community for LGBTQ+ students and just helping people out," Perry said.
New LGBTQ+ Resource Center Coordinator Sarah Doherty started her career working at the LGBTQ+ Resource Center at Cornell University in 2003.
"I was excited that Ferris had opened a LGBTQ+ Center because I knew that there was a need," Doherty said. "It's important for students to find resources and try to start and build, and shift the culture of the university in places that it needs to be shifted and make it as fabulous as it can be because I feel like it could be really fabulous."
Although Doherty has only been working at Ferris for six weeks, the new coordinator has many plans for the future.
"My hope is that I will be able to partner with people across the community and have some spaces for some deep conversations about the vast diversity of experiences and identities, and communities and histories of LGBTQ+ folks," Doherty said. "What does justice and freedom for every LGBTQ+ person look like? Not only justice for the sort of people in the media or the people who have the money to push their own political agendas. What does it look like if we're actually paying attention to all of us?"
The LGBTQ+ Resource Center hosts coffee houses every Wednesday from 4 to 6 p.m. in the University Center.