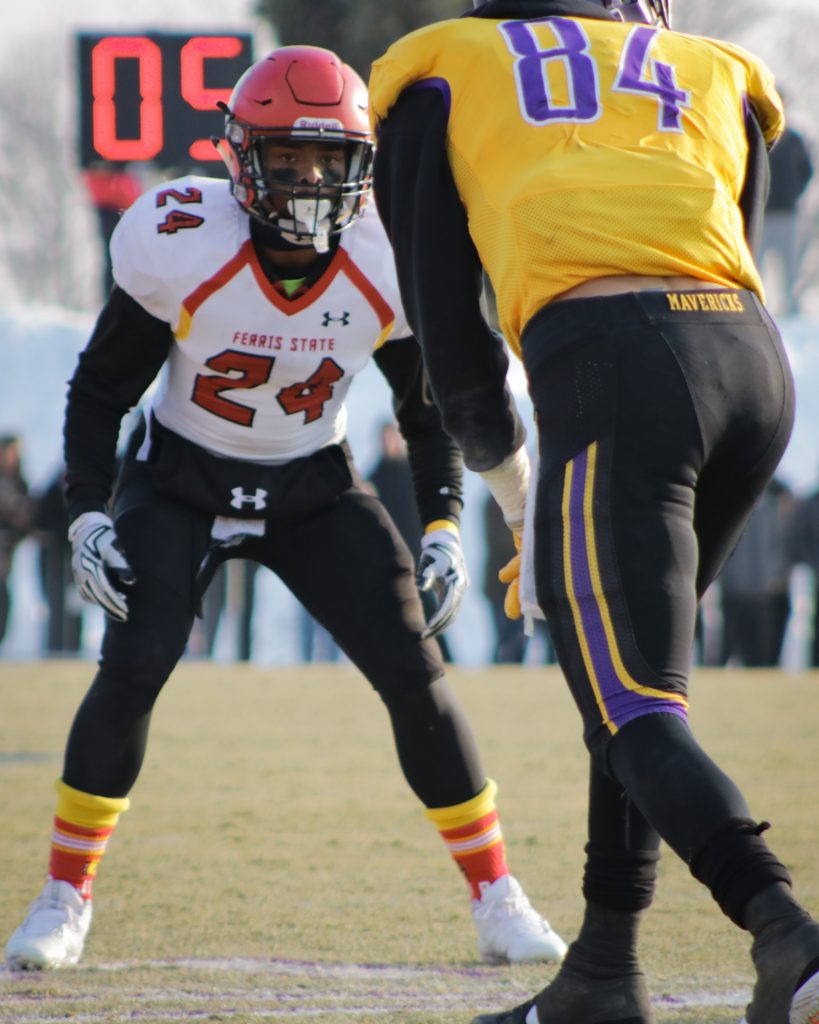 This past Saturday, the Ferris football team defeated Minnesota State University by a score of 42-25 at Blakeslee Stadium in Mankato, Minnesota.
The win wasn't just any win either; it was a win that sends Ferris to their first ever appearance in the National Championship Game against No. 1 seed Valdosta State University.
"It's a huge milestone for us. We worked so hard, especially the guys in the class ahead of me and the guys I came in with. We've had four to five years of trying to do this, but it's just a testament to the work we put in and to have this opportunity," Ferris junior quarterback Travis Russell said.
There was a lot that went right for the Bulldogs, despite a raucous crowd of 2,031 eager fans that leaned heavily in the direction of the Minnesota State Mavericks. The Mavericks were looking to advance to their second National Championship Game in the past five seasons.
The sidelines were tense, as each team knew exactly what was on the line, but nobody was tense when they stepped onto that field. From the moment the game started, it was a backyard brawl.
The two teams matched each punch for punch, answering touchdown for touchdown.
At least, that's how it was up until six minutes to go in the fourth quarter.
After getting on the board first, thanks to a short three-yard scamper by Maverick sophomore quarterback J.D. Ekowa, Minnesota State quickly let that lead slip away. The Mavericks trailed 21-10 midway throughout the second quarter after a two yard touchdown run by Ferris freshman wide receiver Sy Barnett. However, they rallied back to just a two point deficit at the half.
The score was 28-25 with just six minutes to go in the game. Minnesota State had momentum, and their fans were as loud as ever, knowing that they were very alive in this one.
That was when Ferris took complete control.
Converting a third and six to get the ball down to the one-yard line, Ferris sophomore running back Marvin Campbell punched it in from one yard out to make it 35-25 in favor of the Bulldogs. On the very next play, Ferris junior defensive end Austin Edwards stripped Maverick junior quarterback Ryan Schlicte, and Ferris junior Sam Girodat pounced on the ball.
Ferris senior running back Derrick Portis followed the turnover with a 19-yard touchdown run to put the game on ice, making the score 42-25.
Just like that, the Bulldogs improved to 15-0 on the season. They look to become the first team to ever go 16-0, and the team is very confident that will happen.
"We're excited but we're not done yet. So once we get one more, then we'll be able to really celebrate," Russell said.
This was a statement echoed by many as there was nothing but joy and jubilation on the field post-game for the Bulldogs. Even head coach Tony Annese wanted to take a breath and enjoy this special moment before the focus shifted onto preparing for Valdosta State.
"We're just excited right now and you know, we'll see what happens next weekend, but we got a chance to go play and try to win that National Championship for Ferris," Annese said.
After all the raw emotion from the fans and both sidelines in this dogfight of a semifinal, it's only fitting that these emotions carried into the post-game celebration.
However, as these Bulldogs have stated, they aren't done just yet. They have one more game to determine if Ferris will finally be declared Football National Champions.
If you want to see this emotional whirlwind continue, make sure to tune into the National Championship Game between Ferris and Valdosta State 4 p.m. EST Saturday, Dec. 15, in McKinney, Texas.
For coverage of the NCAA Division II National Semifinals and National Championship, click here.