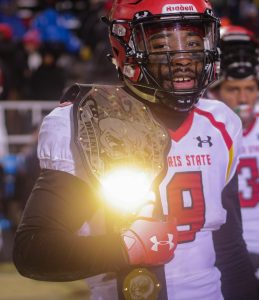 It is said lightning never strikes twice in the same place, but the Ferris football team has the chance to prove that wrong.
The Ferris men's basketball team celebrated the school's first ever National Championship in March and the football team has an opportunity to win the school's second title just nine months later.
One of the key players in men's basketball's run to a championship is a key player on the football team as well. That player is senior defensive back DeShaun Thrower.
Thrower, who also plays guard for the basketball team, has 42 total tackles, two interceptions and a fumble recovery that was returned for a touchdown in 12 games this season.
"I hadn't even really been thinking about it. I've had it in the back of my mind. I'm happy and excited for the opportunity to do it, but I won't be too happy until Saturday is over," Thrower said.
On the hardwood, he averaged eight points per game while shooting 44 percent on three pointers as the sixth man for the Bulldogs.
A former Division I player at Stony Brook University, Thrower was a standout in both basketball and football in high school. He was named Mr. Basketball for the state of Michigan his senior season in 2014, while finishing runner up for 2013 Mr. Football honors. He transferred to Ferris after two seasons at Stony Brook.
Now, Thrower has his eyes set on his own bit of history. If Ferris wins the National Championship, he will become the first player to ever to be a part of a National Championship team in both basketball and football.
Winning more than one title in a year is a feat that has only ever been done once before in NCAA history, and never before in Division II history. The only team ever able to accomplish said feat was the University of Florida back in 2006.
This rare type of history is on the line once more 4 p.m. EST Saturday, Dec. 15, when the National Championship game officially kicks off in McKinney, Texas, between Ferris State and Valdosta State (Valdosta, Georgia).
For more coverage on the NCAA Division II National Championship, click here.