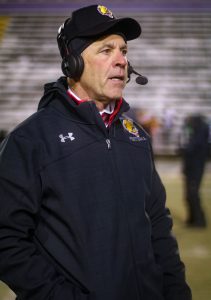 Hard work and success don't go unnoticed and along with the possibility of having two national championships in one year, Ferris could now have two coaches of the year.
Hero Sports released their poll for Division II Coach of the Year Wednesday, Dec. 12. It includes 10 coaches who all led their teams to undefeated regular seasons, one of which is Ferris football head coach Tony Annese. Among the coaches in the running are Minnesota State head coach Todd Hoffner, Valdosta State head coach Kerwin Bell and Grand Valley State head coach Matt Mitchell.
The poll is open to anyone to vote and will close 1 p.m. EST Friday, Dec. 14. Ferris' official football account retweeted the link, but the poll can also be found on herosports.com.
As of Wednesday night, Annese was in 5th place with 89 votes. At the top of the poll with 295 votes was Tarleton State head coach Todd Whitten, with West Chester head coach Bill Zwaan in second with 201 votes.
For coverage of the NCAA Division II National Championship, click here.