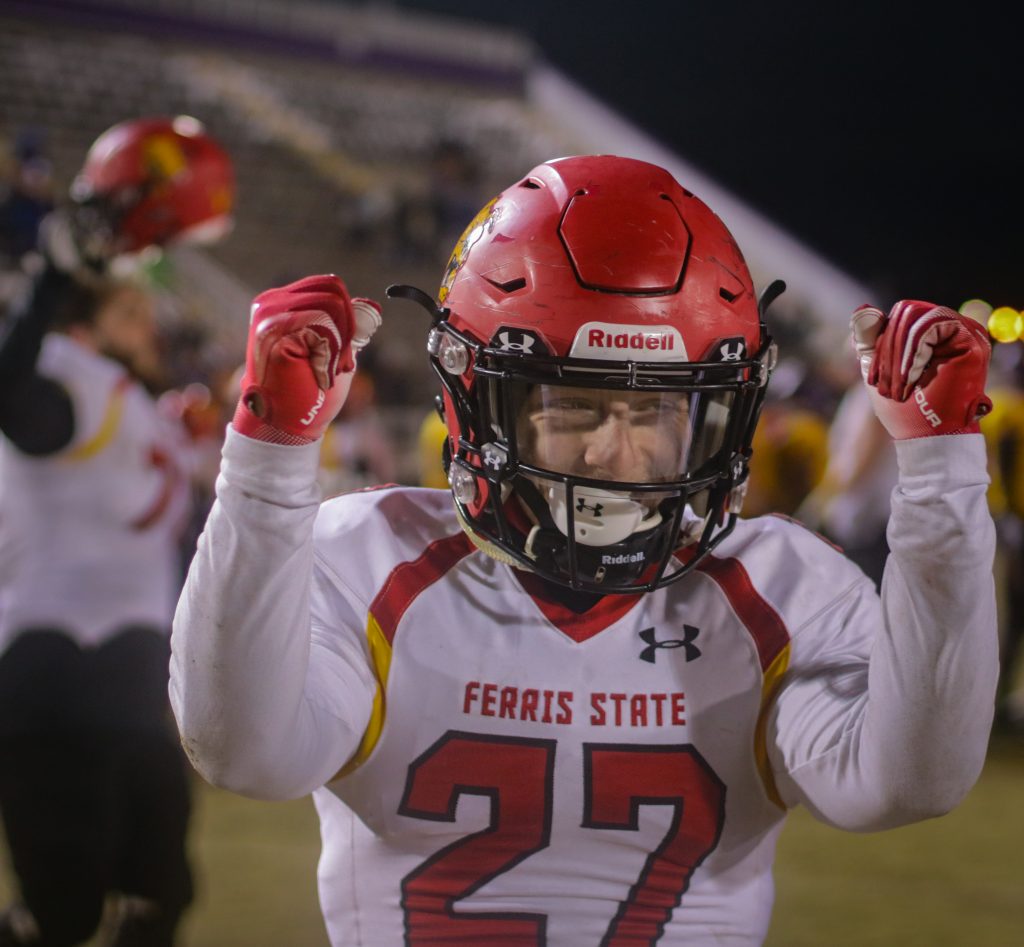 This is the moment you wait for ever since you first step foot onto Ferris State's campus as a student-athlete on the football team.
You hear about the opportunity to win championships when you are being recruited by Coach Annese and the coaching staff at Ferris, but the reality of it doesn't hit you until you step onto the field for the first time.
That was me my freshman year back in the fall of 2014. I was redshirted that fall, but instantly saw what Coach Annese was building, and that was a championship culture. We won the Great Lakes Intercollegiate Athletic Conference (GLIAC) Championship my freshman year for the first time since the 90s, and after that experience of being redshirted, I was eager to step on the field.
Year in and year out, I saw this organization buy more and more into Coach Annese's four pillars of success, which is being in the "FOLD." This stands for faith, order, love and discipline. The organization soon began to realize that only we could beat ourselves and the sky was the limit for what we could achieve.
Fast forward time, and here we are in 2018. I am currently a senior captain on the Ferris State football team in my final semester of school and final fall on the team. I have a career record of 60-7, have made five straight NCAA Division II playoff appearances, have competed in two NCAA National Semifinals and have won three GLIAC championships (in 2014, 2015 and 2018).
During this campaign in 2018, we are currently 15-0 in my senior year and have a chance to win a National Championship against Valdosta State University (Valdosta, Georgia).
I have been on tremendous teams over the past four years and have developed and learned more about my team and myself over the years. We have an ultimate chip on our shoulder, since not many people were expecting us to do as well as we have. We take pride in competing until the end and we will never let our foot off the gas on the field.
I am extremely proud and honored to lead this team as a captain and be a part of such a great group of guys.
Making it the National Championship in my final season means the world to me. It has been something I have worked for ever since I was a freshman here at Ferris. It has taken selflessness, dedication, hard work and persistence to get to where we are.
I am thankful for the lessons I have learned through Coach Annese and the Ferris State football team. The program has shaped me into a better person and I have grown as a young man. I can honestly say I truly found who I am in my four and a half years at Ferris State University as a student-athlete.
I chose Ferris State because of the family atmosphere and culture that was being established throughout the campus. The people in the Ferris community are what make this place so special. I have made life-long relationships with teammates, coaches, faculty and other students, and winning a championship for this university would mean the world to me. I am confident I made the right choice to attend Ferris State and I have no regrets.
I have one more obligation to this school, and that is to bring home the National Championship title. I am looking forward to the opportunity 4 p.m. Saturday, Dec. 15, in McKinney, Texas.
For more coverage on the NCAA Division II National Championship, click here.