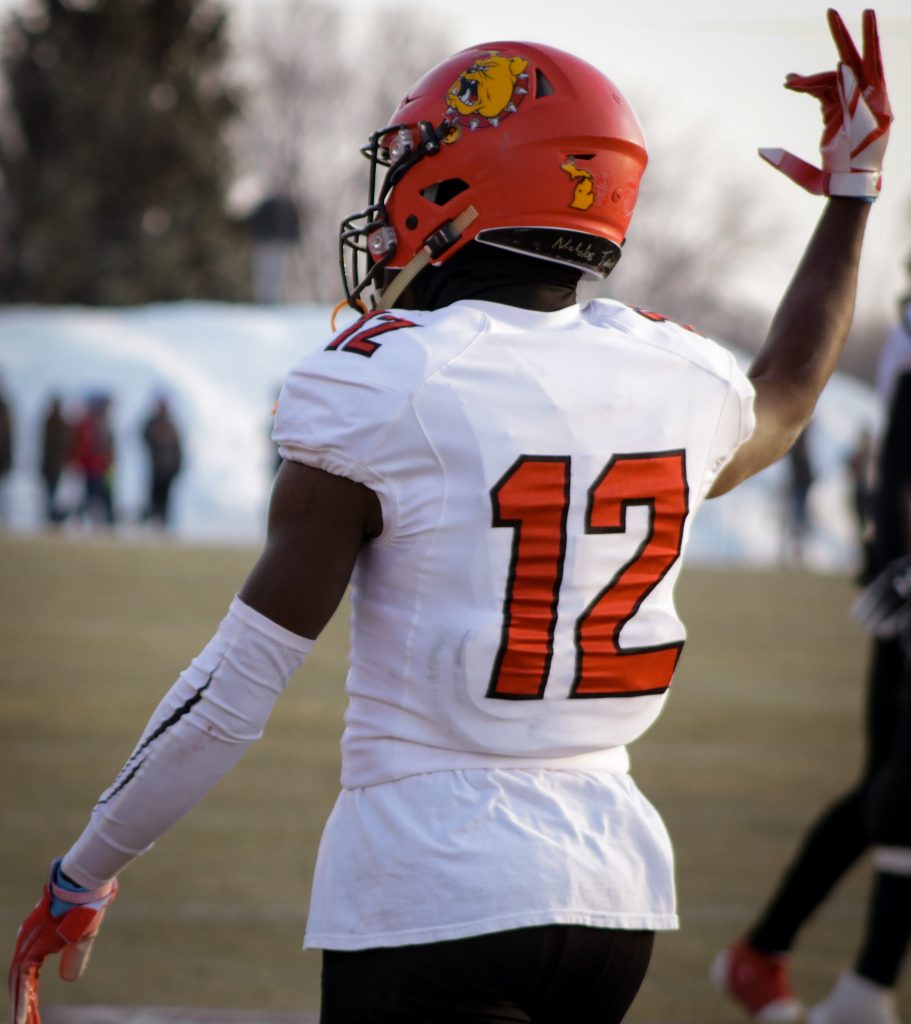 There are 12 players that are listed as seniors on Ferris' football roster, and as they head into their final game Saturday, Dec. 15, some will leave behind a great legacy that made this Bulldog team who they are today.
From offense to defense to special teams, these players have been a part of history and have accolades to show for it. Over the span of five years – as some players played into their fifth year – these seniors' overall record is 60-7 with three undefeated regular seasons, as well as three Great Lakes Intercollegiate Athletic Conference (GLIAC) championships. On top of all that, these players have seen the playoffs every year including a National Quarterfinal, Semifinal and now a National Championship.
One senior that is not necessarily part of that group but worth mentioning is wide receiver Keyondre Craig. A transfer out of GLIAC opponent Northern Michigan, Craig has been a key role in getting the Bulldogs to where there are today. Over the past two seasons, Craig accounted for 1,140 yards with six touchdown receptions, as well as an added 67 rushing yards.
"It's been awesome, like I said earlier, this is my second year here so just being around these guys and these coaches and winning as many games as we have, it's just an awesome experience to be a part of," Craig said. "We got one more left, so the job's not done, so we're going to try to finish out as strong as we can this week and try to make history."
Offensive line powerhouses such as Devon Johnson and Nic Sawyer have played a key role in keeping Ferris' quarterbacks healthy and producing enough time for the offense to create a play. Both linemen have earned All-American accolades as well as GLIAC accolades during their time at Ferris. Although there are no personal stats for these linemen, you can correlate the yardage the offense has produced in the past few years and give credit to the linemen for holding their ground and letting the offense do their work.
One final player that did not have a breakout year because he was sidelined during the first half of the season due to injury is receiver Malik Taylor. With a total of 2,085 receiving yards on top of his 12 touchdown receptions, Taylor also led the Bulldogs in two straight seasons (2016 and 2017) in both receiving yards and touchdown receptions. Although he did not have a standout senior season, Taylor's success with the program has been prevalent throughout the years.
Credit is due to head coach Tony Annese and his crew for getting these players to Ferris and developing them as freshmen to achieve success within their college career, and as we have seen with seven other Ferris football players, the development can produce NFL talent.
"Our guys work so hard and are committed so much to being the best they can be," Annese said. "All of a sudden they end up being people that you're like, 'Well, he could be OK,' to 'Wow, what happened? I mean, he's unbelievable.'"
While not every senior is highlighted here, every player will leave their legacy behind, whether it is what they have accomplished on the field or what they have done off the field. These seniors have been a part of history and are looking to make even more as they compete in their first ever National Championship game.
For more coverage of the NCAA Division II National Championship, click here.