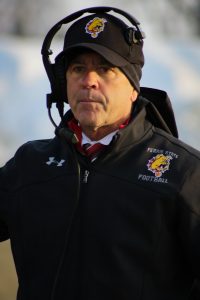 Since taking over the football program at Ferris seven years ago, it's hard to ignore the success head coach Tony Annese has had.
This season, the Bulldogs finally have a chance to show that improvement on the big stage when they play in their first National Championship Game 4 p.m. EST Saturday, Dec. 15, against Valdosta State University (Georgia), but Annese wouldn't leave the weekend without any accolades of his own.
Fans have certainly recognized Annese's success when they voted him the winner of the Hero Sports Division II football Coach of the Year fan poll Friday, Dec. 14.
"It's pretty neat," Annese said. "I just heard about that today. I really don't know much about it other than one of my assistant coaches said 'Hey, you were Hero Sports Coach of the Year,' but it's neat. It's really a team accomplishment. The team's done great things and it's a coaching staff accomplishment, so I'm proud of everybody."
His players didn't need a fan poll to tell them what they already knew, however, as many of them have come to Ferris just to play under Annese.
"I'd say the culture that he brings to Ferris State and the love that he has for all of his players are the two main factors," Ferris sophomore linebacker Liam Daly said.
Ferris junior linebacker Avonte Bell echoed Daly's sentiment and said Annese cares about them as people, not just players.
"Coach Annese is a wonderful coach. He's like another dad. His qualities as a person just make us better and he's made us better men on and off the field," Bell said. "With Coach Annese, it's deeper than football. It's not like other coaches. Coach Annese actually cares about his players, and it's really cool to have him as a coach."
Overall, it's just another feather in the cap for a coach who is as admired and as respected as Annese is among his players, his fellow coaches and the fans.
For more coverage of the NCAA Division II National Championship, click here.