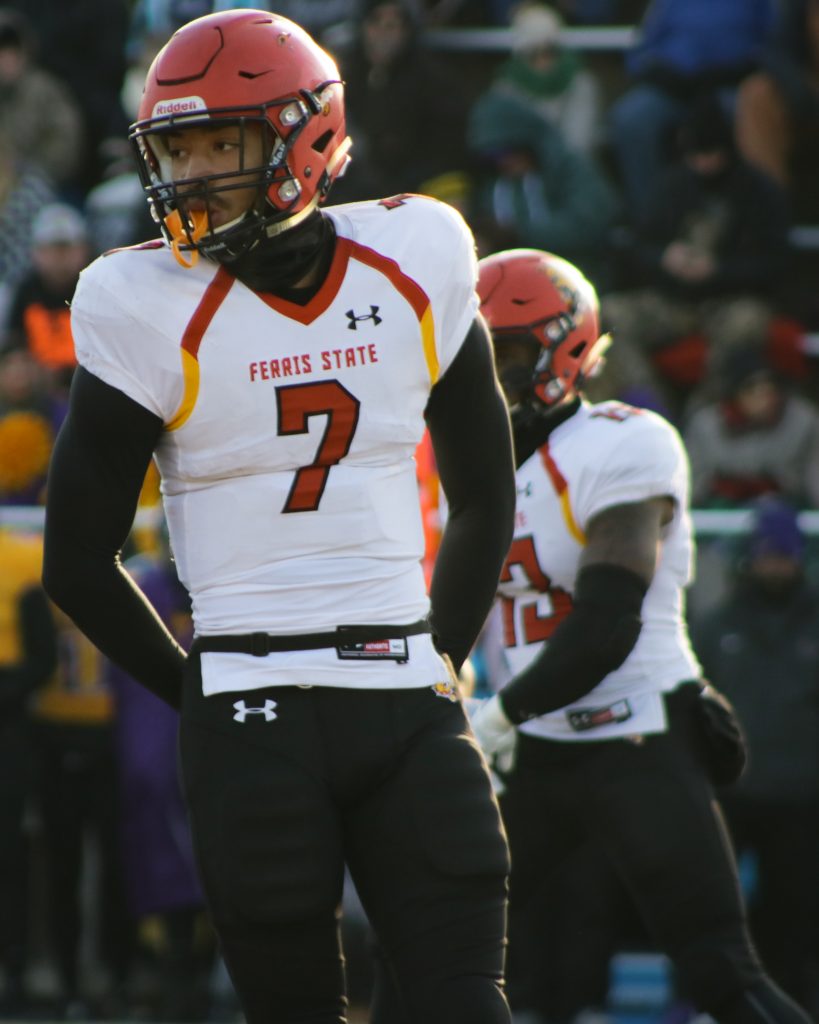 After accumulating several accolades already this season, Ferris junior quarterback Jayru Campbell added one more to his resume.
The Harlon Hill trophy is given to the Most Valuable Player in the NCAA Division II and it was awarded to Campbell Friday, Dec. 14. In addition to the Harlon Hill trophy, Campbell has been awarded Great Lakes Intercollegiate Athletic Conference (GLIAC) Player of the Year, First Team All-GLIAC Quarterback, American Football Coaches Association First Team All-America Quarterback and Associated Press' All-American honors.
Campbell said he's thankful for the opportunities.
"I mean, I came every day to practice, weights, conditioning, whatever it was, I came prepared like I was the best player out there, the best player in the world," Campbell said. "I'm very thankful for this award."
Head coach Tony Annese had nothing but praise for his starting quarterback after the announcement was made, and he said there's more to it than his stats.
"It's been a dream season for him, a dream season for our team," Annese said. "A lot goes into it, you know, he's been a great leader, a hard worker and he's really propelled us to take it to the next level. You talk a lot about his skill set but he's really, what he's really done is made us a tougher team and helped us be a great team."
Annese put together a watch party for the announcement in McKinney, Texas, and said Campbell was originally against the idea.
"We came down to Texas to play in the national championship game," Campbell said. "Coach Annese is a really loving coach and he loves to do stuff like this and I don't know, I guess I was a little too focused on the championship game."
Campbell was named GLIAC Offensive Player of the Week six times this season and leads the nation in touchdowns with 43 this year. He also leads the nation in rushing yards as a quarterback with 1,188 yards. He has a 60 percent passing completion and has 2,453 passing yards.
Ferris freshman wide receiver Sy Barnett said ever since Campbell came to Ferris, they've had a bond and it's only gotten stronger since then.
"Oh, he definitely deserves it, 100 percent," Barnett said. "He's the hardest worker I've ever met. He's the man who needed to win this award."
The last time a Ferris player won the Harlon Hill was Jason Vander Laan, who brought home the trophy in both 2014 and 2015.
For coverage on the NCAA Division II National Championship, click here.