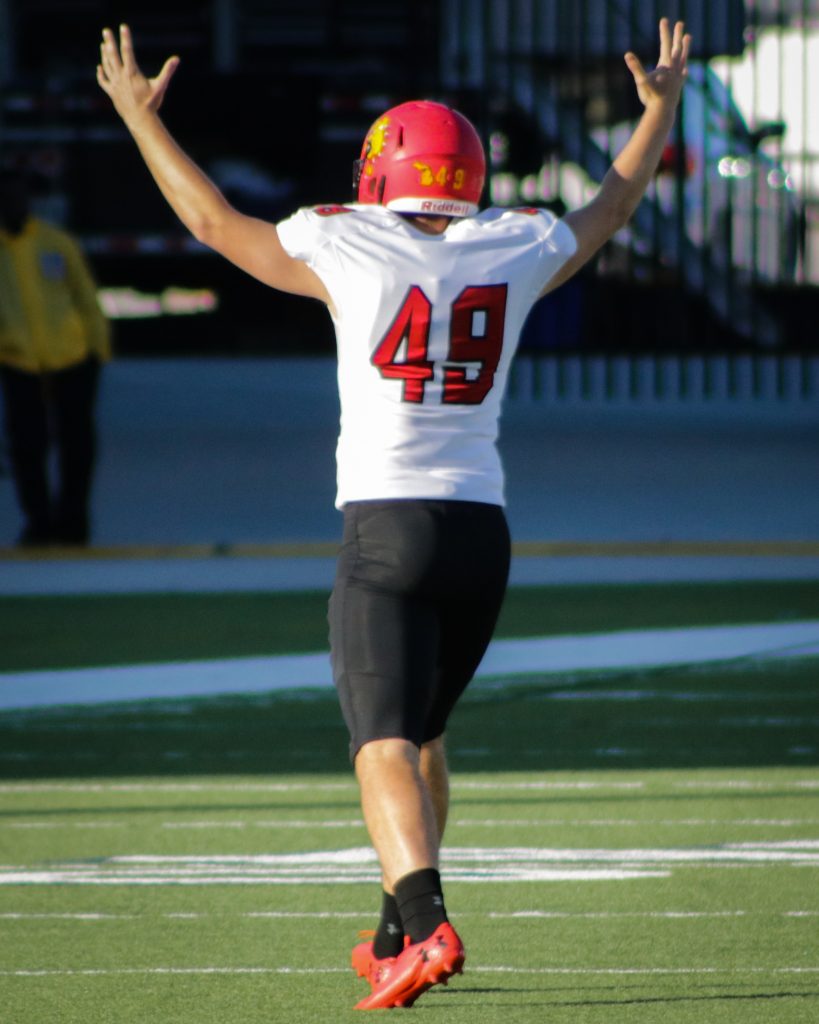 Although they ultimately fell short in the last minutes of the National Championship, the Bulldogs wouldn't have had the chance to take it to overtime without two crucial field goals.
Ferris junior kicker Jackson Dieterle has struggled all season, completing only seven of the 18 field goals. Saturday, Dec. 15, he broke the Division II National Championship game field goal record with a 52-yard kick in the first quarter and gave Ferris an early game lead of 10-3.
Dieterle wasn't even aware he broke the record until after the game, but he said he treated it the same as every other field goal, even though it was a full seven yards longer than his career best of 45 yards.
"I just take every kick the same, just take a deep breath and walk out on the field and go over my routine in my head and just know that I'm going to make it," Dieterle said. "My coaches put me in the position to make a play and luckily I made it."
Fast forward to the fourth quarter and Ferris is down 49-38. After a long drive down the field, the Bulldogs were forced to kick and Dieterle's 31-yard field goal was good, putting Ferris back in the game at 49-41 with just more than five minutes left to play.
Dieterle — who is familiar with the pressure of playoffs, having played in the 2016 playoff run to the semifinals as a freshman — said he dealt with injuries this season, but once he was healthy, playoffs were the only thing on his mind.
"I struggled with injuries all year. I didn't really get healthy until probably the last three weeks of the regular season, so once I got healthy, I got it in my mind that I was going to get ready for the playoffs and be as good as I could in the playoffs," Dieterle said.
According to Ferris head coach Tony Annese, the record-breaking field goal almost didn't happen.
"He had a great day today, I'm very proud of him. We debated and we were late really to get the field goal team on because the three guys who really are primarily responsible for play calling, one said 'Let's go for it,' one said 'Kick the field goal,' and one said 'Let's punt it.' So we were late to decide to go for this field goal. It's really kind of on the edge of his range and he broke a record, so that's pretty cool," Annese said.
Even though the Bulldogs came up two points short this time, the chance to tie it at the end came courtesy of Dieterle, and he came out of the game with his head high.
"It was a dream season for us. That's the best we've ever done and I feel like in these games you need some experience like that," Dieterle said. "You know, I'm really proud of this team and really proud to be a part of this team. We're one big family and you win some, you lose some."
For more coverage of the NCAA Division II National Championship, click here.