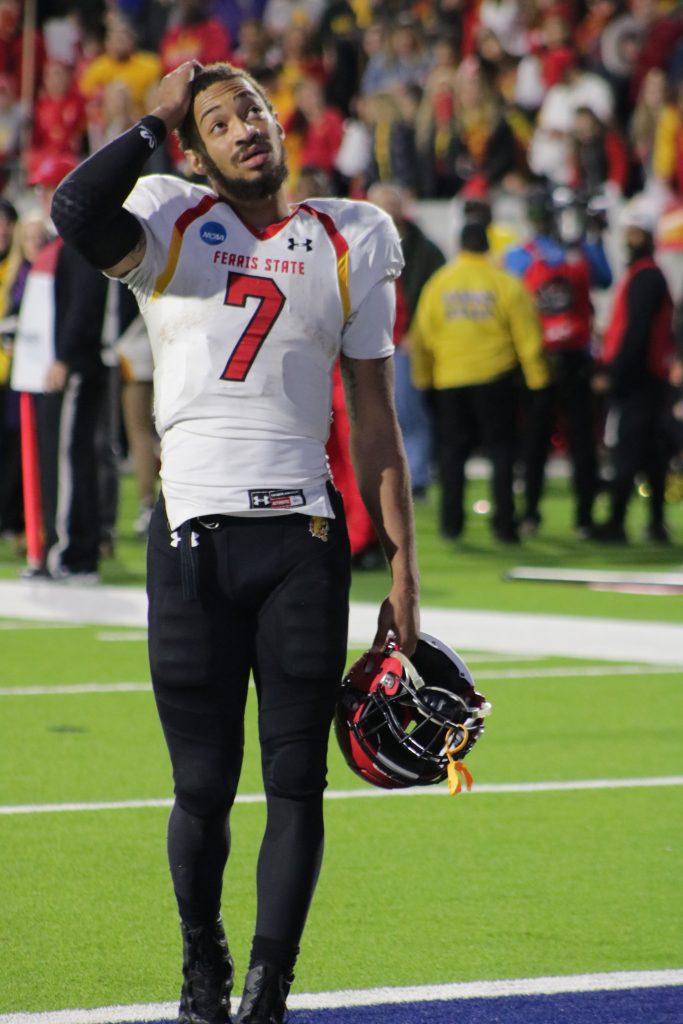 Ferris came to Texas in search of their first ever football National Championship but left the stadium watching the other team hoist the trophy.
In front of a crowd of 4,306 people packed into McKinney ISD Stadium in McKinney, Texas, Ferris ultimately came up short of their national title aspirations, falling 49-47 to Valdosta State Saturday, Dec. 15.
In a game that featured seven lead changes and one tie, it was one for the ages as the two last undefeated teams in Division II football put on a show, scoring 96 points total, which is the third highest points scored in a championship game.
In this shootout, both offenses believed that they did what they needed to do to win the game, and Ferris junior wide receiver Dion Earls said there wasn't much else their offense could have done.
"I don't believe that there was anything we could do better. I feel like 47 points, especially in a championship game, is enough. I feel like we did a great job on offense all around," Earls said.
However, that performance was largely for naught.
The Bulldogs opened the scoring with a Division II National Championship Game record 80-yard touchdown pass by Ferris junior wide receiver Jevon Shaw. Shaw took the lateral from Ferris junior quarterback Jayru Campbell and proceeded to throw it to wide-open Ferris senior wide receiver Keyondre Craig, who took it to the house for a 7-0 lead.
After the Blazers answered with Valdosta sophomore quarterback Rogan Wells throwing the first of what would end up being five touchdown passes on the day with a 21-yard strike to Valdosta sophomore wide receiver Lio'undre Gallimore, the Bulldogs followed it up with some more history.
With 2:18 left in the opening quarter, Ferris junior kicker Jackson Dieterle nailed a Division II National Championship Game record 52-yard field goal. That may come as a surprise to many, given the fact that he was just 7 of 18 on his field goal attempts thus far this season.
The back and forth action continued into the second quarter. After Valdosta had retaken the lead on a second touchdown pass by Wells, Ferris got the lead back after a muffed punt led to a short field, which led to a three yard touchdown run by Campbell and a 17-14 lead.
The score at the half would end up being 28-24 in favor of the Blazers after a short touchdown run by Valdosta freshman running back Seth McGill with just second remaining before halftime.
In the third quarter, Valdosta would extend their lead out to 42-31 thanks to a couple more touchdown tosses by Wells and an untimely pick from Campbell. The pick was just Campbell's sixth of the season.
Ferris tightened it up to 42-38 on a crazy touchdown reception by Craig, in which Valdosta sophomore defensive back Corey Roberts questionably decided to tip the ball back into the endzone while going out of bounds in search of an interception. Instead of a pick, it landed in the hands of Craig in the endzone for a Ferris touchdown.
However, the Blazers responded with some trickery of their own as they brought in backup quarterback, Valdosta freshman Ivory Durham, and lined him up at halfback. The result was Durham getting the ball and tossing it down the sideline to Wells for what was Wells' sixth touchdown of the game. That made the score 49-38 with 11:36 remaining in the game.
Ferris would have a chance though. After a pair of defensive stops and another Dieterle field goal, the Bulldogs had a chance to march down the field and tie the game.
However, it was not meant to be, even though the Bulldogs would score with a five-yard run by Ferris freshman wide receiver Sy Barnett to make it 49-47. Despite the touchdown, the Bulldogs were unable to convert the two-point try as Shaw's pass would sail incomplete out of the back of the end zone.
That two-point try was stressful for everybody who was in the stadium, and that would certainly apply to Valdosta State head coach Kerwin Bell, who could barely stand to watch the play as it happened.
"I didn't want to go to overtime, that's for sure. With their quarterback, he's special, and I did not want to go to overtime," Bell said. "It came down to a big play and everybody is sort of running that play after the Eagles made it famous last year, and we covered it really well."
And thus, this became a game that Ferris players, along with the coaches and the fans who made the trip, will remember for a very long time, despite the loss. While it certainly wasn't the end that anybody wanted, it's important to look back and admire the season for what it was.
Despite the loss, Ferris head coach Tony Annese believes his team has many reasons to be proud.
"You know, I've said it all along. we internalized our mission. They never give in and they never quit. We have never, and I mean never, had a time where one moment would bring us down," Annese said. "So I don't know why we have that attribute of being gritty and never giving in, but that's who we are and at the end of this game, we were very proud of our guys."
The 2018 Ferris football team became the first to reach the National Championship Game and set a program record with 15 wins in one season.
For more coverage of the NCAA Division II National Championship, click here.