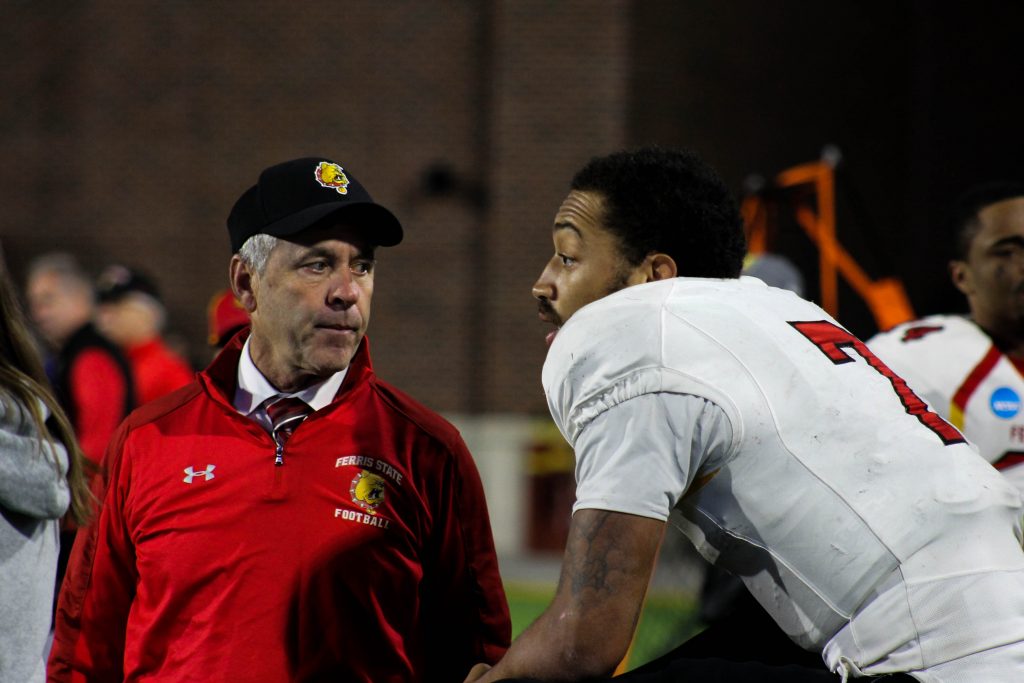 Mistakes can define players' careers, sometimes even ruin them.
But for some players, these mistakes are turning points and lessons that lead them to where they're meant to be. Ferris' football team has several players with this experience, and head coach Tony Annese's program emphasizes development as a person just as much as development as a player.
"People ask me all the time, 'Why would you give somebody a second chance opportunity?' Well, I mean, I was a high school teacher for 25 years. I mean, I had to give people second chance opportunities every day," Annese said. "You know, that's what an educator does. I hope all coaches out there are willing to try to work with young people, try to bring out the best that's in them, you know, focus on the positive skills and traits they may have, not the negative experiences they might have had."
Harlon Hill trophy winner and junior quarterback Jayru Campbell is one of these players, having been arrested twice while a student at Cass Tech High School and losing his scholarship to Michigan State, according to the Detroit Free Press. He played for Garden City Community College before transferring to Ferris. Annese said one of the reasons he redshirted Campbell last year was to give him a chance to grow and be the best person he could be off the field.
"There's always a story behind the story and there is for [Campbell], which over time people will learn, but there's reason for people's motives and people's mistakes and so he's been a blessing," Annese said. "He's been a blessing for everyone. He's made his team tough, he's committed, he's this hard working young man as I've ever been around. Then add to that, he wants to win this national championship. He drives this whole team to win this national championship."
Ferris junior defensive back DeShaun Thrower, who is also guard for the Ferris basketball team, is another example of a second chance turned into a successful career. Originally on the basketball team at Division I Stony Brook University (New York), Thrower faced felony charges for an alleged theft in 2016, according to the New York Post. The charges were ultimately dropped, but Thrower's career at Stony Brook was over.
When Thrower transferred to Ferris, he said he didn't want to play football anymore. But once he got back on the football field, he fell in love with it all over again.
"I feel like everything happens for a reason. God said to do whatever for a reason, he placed me here for a reason. Coming out of high school, I didn't want to play football anymore. When I transferred, I didn't want to play football anymore, and then Coach Annese came and talked to me and my dad. It started getting later throughout the summer and I was like, 'I might as well give it a try,'" Thrower said. "Then I came out and I started getting the love back for it and started getting in the groove of it and now I'm back here. So, I feel like just everything happens for a reason and God placed me here for a reason."
Ferris has also gained some talent from Rutgers University (New Jersey) in junior defensive tackle Jamil Pollard and junior defensive back Delon Stephenson. Their careers overlapped at Rutgers, but in 2014, Pollard was charged with two counts of theft of a person and lost his spot on the roster, according to the New Jersey Local News. Stephenson, who was named to the Associated Press All-American First Team this season, received three days in jail in 2015 and three years of probation for breaking a man's jaw in a fight, according to the New Jersey Local News.
Pollard said that Annese really gave him a third chance, since he played at Penn State University before Rutgers. But Pollard said he's thankful and doing well with the opportunity given to him at Ferris.
However, even though Annese will give players second chances, they have to earn it.
"Coach always leaves the door open for those that deserve a second chance, but they need to deserve it," Pollard said.
Pollard said Annese has played a part in his development as a person since he arrived at Ferris.
"I was a lot more rough before I came here. I was living in Camden, New Jersey, again — which isn't the best place — and going to school," Pollard said. "When I arrived at Ferris, I was more of an 'act on impulse' kind of guy. Since then, Coach Annese has helped me respond to events rather than react."
In the press conference preceding the national championship, Annese said that the team's grittiness is due to the players' ability to overcome personal challenges and find the best that's in them.
"We've done the things we've done and persevered. We had some challenges this year," Annese said. "Look up Jamil Pollard, just Google his name, and you'll figure out that he's overcome a lot of personal anguish and challenges in his life to be a great young man, so I'm proud of him."
For more coverage of the NCAA Division II National Championship, click here.