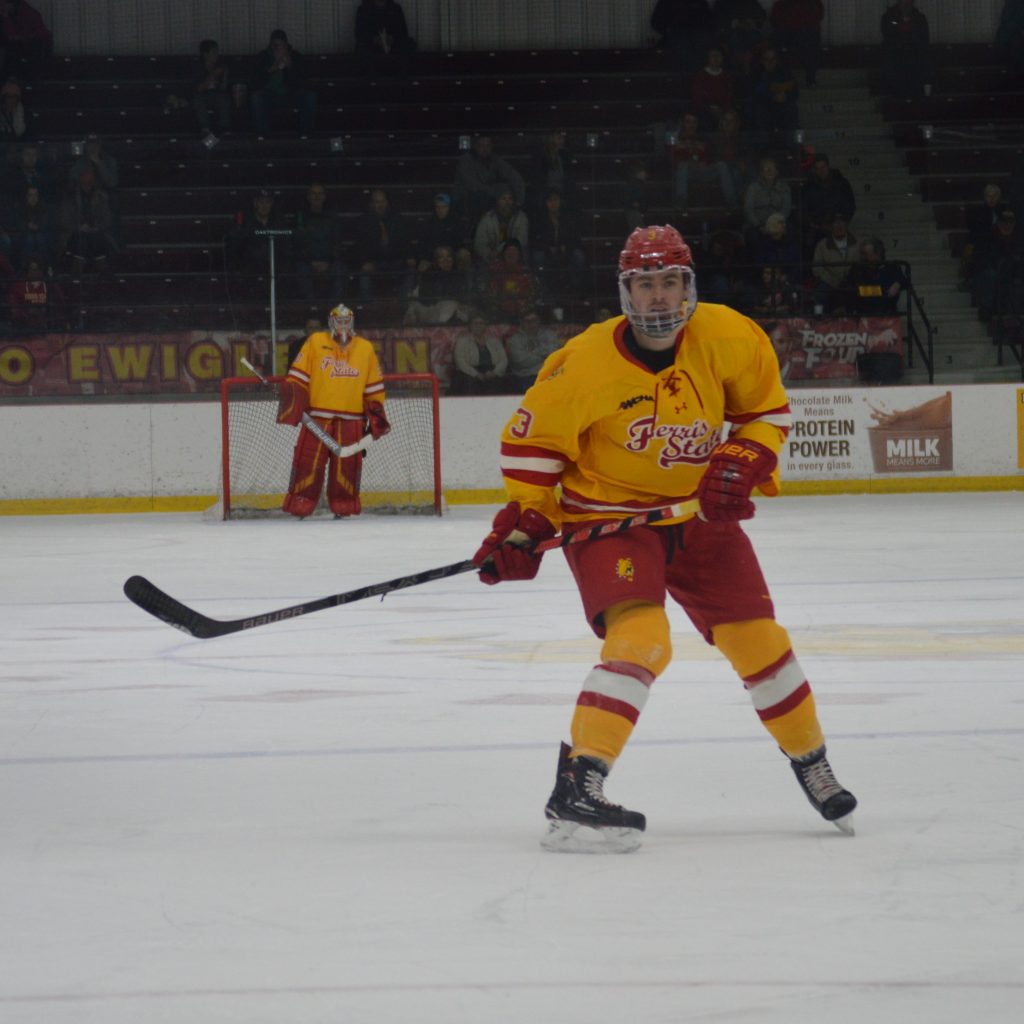 The Bulldogs headed into the weekend with a chance to start turning around their season but came up short with a pair of losses against the now 9-10 Northern Michigan University Wildcats.
It's been since Nov. 3 that the hockey team captured a win, which was against Michigan State University. Defensive struggles have plagued the team, with 25 goals given up in the last three weekends, but Ferris freshman goaltender Roni Salmenkangas is hardly to blame with 32 saves in the Friday, Dec. 14, matchup.
The Bulldogs started off each game looking hopeful and Friday night, the Bulldogs scored first with Ferris junior forward Dominic Lutz scoring in the first two minutes of play. Lutz was assisted by Ferris junior defenseman Joe Rutkowski for the lone Bulldog goal.
The game stopped there offensively and the Wildcats would go on to score four unanswered goals.
In hopes of at least splitting the weekend series, the Bulldogs came back Saturday, Dec. 15, with more power for the win. However, the Wildcats were able to find themselves in the lead within the first three minutes of play and were able to get two more past Salmenkangas before the period ended.
The Bulldogs quickly came back in the start of the second with Ferris senior forward Corey Mackin, who knocked it into the back of the net off an assist from Ferris junior forward Jason Tackett, cutting the Wildcats' lead to just two. Tackett also helped the Bulldog comeback by scoring his own goal a few minutes later with an assist from Ferris freshman defenseman Cooper Zech.
The Wildcats claimed the game with one more goal, making the ending score 4-2 with Salmenkangas ending with 35 saves on the night. The Wildcats lead the game in shots, with 39 to Ferris' 25.
The Bulldogs are now 4-13 regular, 2-9 in conference and look to end their losing streak in Minneapolis next week where they will face the University of Minnesota for a weekend series Friday, Dec. 28, and Saturday, Dec. 29.