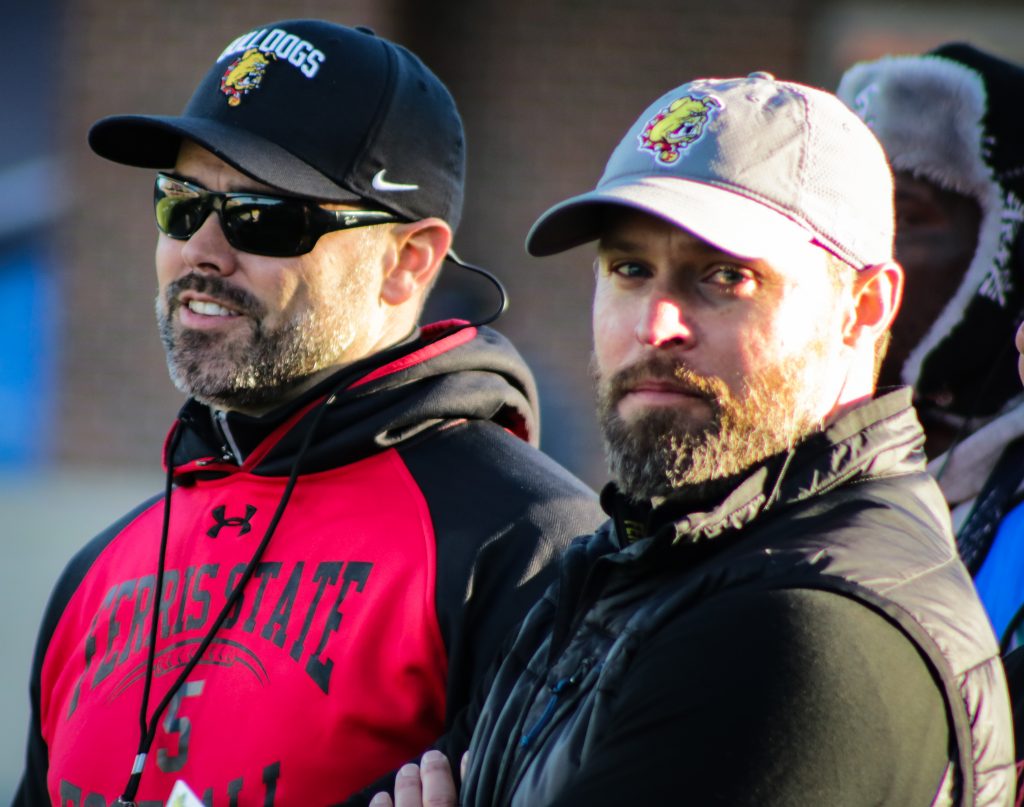 Before the National Championship game Saturday, Dec. 15, fans and alumni packed the Buffalo Wild Wings in McKinney, Texas, wall-to-wall, many of them football alumni.
Among those football alumni were Brian and Jeff Carmody, who played as defensive backs at Ferris, Brian from 1990-93, Jeff from 1994-98. Besides being a Ferris football alumnus, Brian is chief operating officer of JK&T Wings, Inc. which owns and operates 34 Buffalo Wild Wings in Michigan, Illinois, Massachusetts and Louisiana, according to the Ferris website.
Brian said he first got involved in the restaurant business after he graduated when he worked at Casey McNab's in Big Rapids. After his father and his father's business partner came to him looking to invest, they found Buffalo Wild Wings—then Buffalo Wild Wings & Weck—and opened their first location in Mount Pleasant in 1994. After that, Brian said they never looked
back.
"I think it's the work ethic you get a student athlete that propels you after school. The ability to juggle academics being a priority in athletics and learning how to work within a team atmosphere," Brian said. "That's what I think Jeff and I have talked about throughout our business career with Buffalo Wild Wings, trying to build a great culture based around family and doing the right thing."
Both the Carmody brothers follow Ferris football regularly since graduating. Jeff, who lives in Rockford, said he goes with his family to as many games as possible. Jeff said that watching the team make it to the finals has been incredible, and Brian agreed. "I think they're unbelievable. The thing that I love about them is their mental toughness," Brian said. "The situation that happened in the middle of the season didn't affect their play and how they've gone on the road, just so tremendous, a tremendous team effort and their accomplishments are unbelievable, it makes you super proud watching."
Able to reunite with numerous teammates and meet football alumni from other classes, Jeff said the number of alumni who came to support is a reflection of the program's family atmosphere.
"It's an unreal experience, it really is," Jeff said. "You can just see the passion through the university and what these guys worked for in the past, they just love the program, love the university and I think it speaks for itself how packed this place is." Brian echoed the sentiment, calling his experience with Ferris football and extension of a family.
"I think it's great," Brian said. "A lot of people in this building have played in the different eras and have gotten so close, but we've never been over that hump and to see them get to the finals and do it today is awesome."