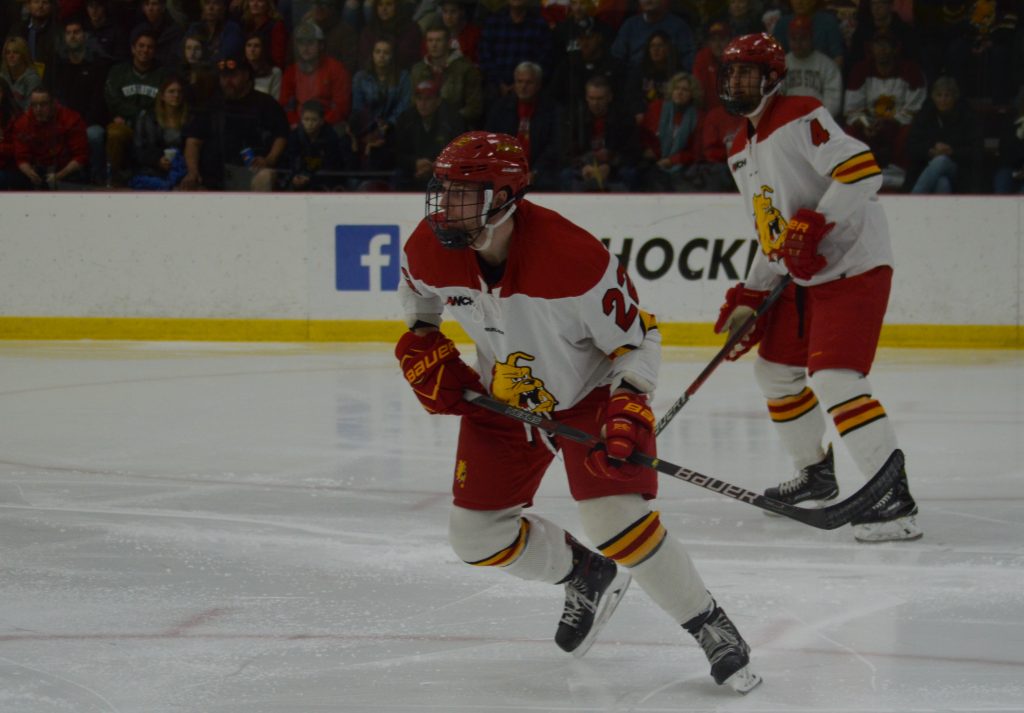 The weekend series against the University of Alabama-Huntsville (UAH) was a thriller, with both games making it to overtime and the Bulldogs managing to make it out of Alabama with another split weekend. For the Friday, Jan. 4, game, the Bulldogs won a thriller in overtime by a score of 6-5, garnering back to back wins for the first time since late October.
It was a back and forth affair, as no team was ever able to gain separation from one another. After an early first period goal by Ferris senior forward Jacob Hetz, UAH got a strike from Huntsville junior forward Hans Gorowsky to tie the game 1-1. The teams traded scores until Alabama got a pair of snipes in the third period from Huntsville sophomore forwards Brandon Salerno and Austin Beaulieu to take a one goal lead at 5-4.
The Bulldogs weren't done yet and with just over 11 minutes left in the third, Ferris freshman forward Jake Transit put one in the back of the net to send the game into overtime, during which the Bulldogs made sure to end this game quickly. They needed just 56 seconds of extra time before Ferris junior forward Dominic Lutz put one in the back of the net for the Bulldogs, with the assists on the play coming from Ferris sophomore forward Lucas Finner and Ferris junior defenseman Cameron Clarke.
The Bulldogs were led in this one by Lutz with two goals, Ferris junior forward Oskar Andren with two assists and Ferris freshman goalkeeper Roni Salmenkangas with 25 saves.
The two teams battled once more Saturday, Jan. 5, in a game that would mark Ferris' fifth overtime game on the season and yet another loss for the Bulldogs.
Once again, Ferris took an early lead with Ferris freshman defenseman Cooper Zech striking first in this matchup. However, UAH struck back quickly as Huntsville junior defenseman Kurt Gosselin tied it up just over a minute later.
The Bulldogs got a pair of goals in the second period courtesy of Ferris senior forward Trevor Recktenwald and Zech once again to take a 3-1 lead heading into the third period. Unfortunately the Bulldogs could not hold onto the lead and allowed a pair of goals by Salerno and Beaulieu again, initiating overtime.
Alabama took the overtime win with another goal by Beaulieu to win and sent the Bulldogs home with a 4-3 loss.
Zech, who was Western Collegiate Hockey Association's (WCHA) rookie of the month for December, led the Bulldogs Saturday with a pair of goals. Other standouts were Ferris freshman forward Justin Michaelian, who had a pair of assists and Salmenkangas, who made 30 saves Saturday, despite the loss. With the split, the Bulldogs record currently sits at 6-15-1 and 3-10-1 in conference play. They'll have a chance to improve at home Friday, Jan. 11, and Saturday, Jan. 12, for WCHA play against Minnesota State-Mankato, who are already 2-0 versus Ferris and have outscored the Bulldogs 12-3.