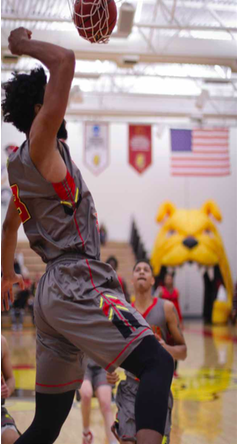 Though the men's basketball team ended winter break on a positive note with a narrow win over Northern Michigan University, they have struggled during Great Lakes Intercollegiate Athletic Conference (GLIAC) play.
The Bulldogs entered the season as favorites to win the GLIAC title after their record breaking season and national championship run in the 2017-18 season. Ferris knew that they would not be the same team as last year after losing some key players, but remained optimistic that they would be the best in the conference. However, after a pair of losses during conference play, the Bulldogs appear to be slowing down.
As the Bulldogs' season started off, no one expected them to have as remarkable of a season as they did last year, seeing that only losing one game is an incredible feat. During their first 10 games, the Bulldogs posted a 5-5 record, which would seem normal to any other program, but for the Bulldogs appeared to be a slow start. This could be correlated with the departure of most players from their regular starting lineup, such as the 2017-18 Division II National Player of the Year Zach Hankins.
Hankins left a legacy behind at Ferris before transferring to Xavier University to play Division I. Nearly averaging a double-double throughout the 2017-18 season, along with 3.3 blocks per game, Ferris knew that it may be a long time before seeing another player like Hankins in the lineup. The Bulldogs have a few players to ll in for the big man role, such as 6-foot-8 Toledo transfer Taylor Adway, but have been slow to get the ball rolling.
Also, when you remove last year's starting seniors such as Noah King, Peter Firlik and Drew Cushingberry, and practically start the new season with a whole new starting five, things will be a little different. Something that is hard to be taught in practice is the chemistry that resides with the starting five, even though these players are with each other and practice in game-like situations, it can never be simulated to when it actually comes down to it.
Even before the 2017-18 season, Ferris only lost one senior, so the impact was not as great since most players already knew exactly how their in-game mechanics worked. When that is completely changed, it takes some time to acclimate before everything is set in stone.
Another contributor towards the "not so normal" start of the season is the inability to rally back and close out a game where they have trailed. Out of all seven losses on the year, the Bulldogs always go into halftime down by some number of points, with an exception of one game that was tied. With a few valiant efforts to get comeback wins, the Bulldogs have fallen short, as three games have been decided by three points or less. As for the eleven wins they have, they have never trailed going into the half.
Since starting out 5-5, with two losses being GLIAC opponents, the Bulldogs have gone 7-2, which looks good as they are now 12-7, but both of those losses during that time were opponents in their conference. Sitting at a 4-4 conference record, the Bulldogs are tied for sixth among both the North and South divisions of GLIAC.
The Bulldogs are home 7:30 p.m. Thursday, Jan. 17, to face off against GLIAC opponent Purdue Northwest.