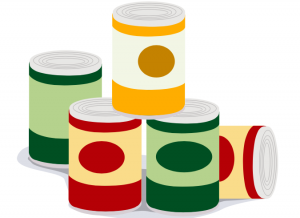 Ferris students and faculty can pay off their January parking tickets in a new way this year by using cans instead of cash.
Ferris Department of Public Safety (DPS) is allowing parking tickets received in January to be paid off with non-perishable food items during the first week of February. The food will then be donated to Wesley House, the food pantry on campus run by students. The Wesley House is located north of campus at 628 S. Warren Ave.
"What we're trying to do is give people a little relief from their parking tickets and at the same time— more importantly—try to make sure that our local food banks have enough food," DPS Director Bruce Borkovich said. "I've seen or heard of students, not necessarily on this campus, that live in their car. They're having a real rough time without a lot of resources and we want to make sure that if there are students out there without enough nutrition that we make sure that food pantry is full."
The program will take non-perishable food at an exchange rate of five items for a $10 ticket and 10 items for a $20 ticket, but will not be accepting food for illegal parking in prohibited areas such as handicap spaces.
"I think this is a great idea and a very noble cause for them to support," Ferris secondary education senior Spencer Tenney said. "Even if [Wesley House] doesn't need food right now, they're going to eventually. Students get refunds back at the end of January, so usually they're set for a little while but then they run out and realize they're struggling and not everyone has someone to reach out to for help, so I think this is a great cause."
Borkovich said that if students are receptive to the limited time program that they will likely bring it back intermittently. However, if there is only a small amount of participants, this may be a one-time trial.
"Maybe not every month, but every couple months here and there or during Thanksgiving and Christmas time they could do this then," Ferris criminal justice junior Alex Downey said. "I think a lot of college kids are focused on themselves, understandably so, but they don't always think about other people because they're trying to help themselves and this is a good way for Ferris to push people to do more for other people."
For students and faculty looking to pay off their tickets with non-perishable items, the person who received the ticket can drop off the items to the DPS parking ticket ofce during their normal business hours of 8 a.m. to 4:30 p.m. Monday through Friday.