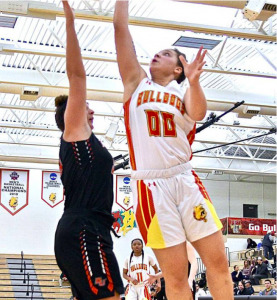 The Ferris women's basketball team is rebounding off of last season's success and starting this new season strong.
They already have a winning record halfway through the season, which is giving the team the motivational boost they need.
"We have become way more motivated. We are such a competitive team this year which is what I really love," Ferris sophomore guard Shaniya Huggins said. "We have a totally different mindset this year."
Huggins, one of the starting five of the team, has already received Great Lakes Intercollegiate Atheltic Conference (GLIAC) Player of the Week honors this season. After just arriving last year, she is already making her mark.
"Even if I did not get Player of the Week, I would still play hard every game and be my best," Huggins said. "I couldn't thank my teammates enough because I could not get Player of the Week without them. In my opinion, Player of the Week should go to my whole team, not just myself."
Last season, the Bulldogs made it to the GLIAC Tournament Seminals and lost to Grand Valley State University.
"The GLIAC tournament run gave us some great experience in tournament play with a young team that will be valuable in the future. It also validated our focus on our core values and the 'how' of the way we operate as a group," Ferris head women's basketball coach Kendra Faustin said. "Our culture allowed us to move through adversity and fostered a belief that we can adjust and grow at any time of the season."
With a young team this season, the team is preparing for more battles, as there are still plenty of conference games to be played.
Ferris sophomore guard Adrienne Anderson has also brought home GLIAC player of the week honors for Ferris and is also one of the starting five this year.
"I'd say my focus is to continue to work hard daily in practices so that my games continue to improve," Anderson said. "All of my teammates and I play a crucial part to our success and each of us play it to the best of our abilities."
Anderson said she has taken on more of a leadership role since she has become a starter.
"I believe that given the opportunity to be a starter means that you should inherently take on leadership responsibilities," Anderson said. "Having taken on a bigger role that is necessary to my team and our success, and it has allowed me to grow as a basketball player and a leader."
The team is coming off a couple tough losses against Michigan Tech University and Northern Michigan University that brought their conference record to 4-4. The Bulldogs plan to finish the last half of the regular season strong with a winning mindset.
"Our mindset for this season is to continue to move our program forward and to focus on our process in the pursuit of excellence," Faustin said. "What has impressed me most about our group so far is the way that we have embraced and fulfilled major role changes, come together as a large group of 18 and handled adversity. We will have some major adversity in the upcoming weeks and I'm confident this group will do the work to navigate through it together, putting the team first."
Faustin is in her fourth year as the head coach of the Bulldogs, with last year being her most successful year, and she plans to continue the success by only going further this year.
The Bulldogs look to turn the trend around 5:30 p.m. Thursday, Jan. 17, against Purdue Northwest and stay undefeated at home.