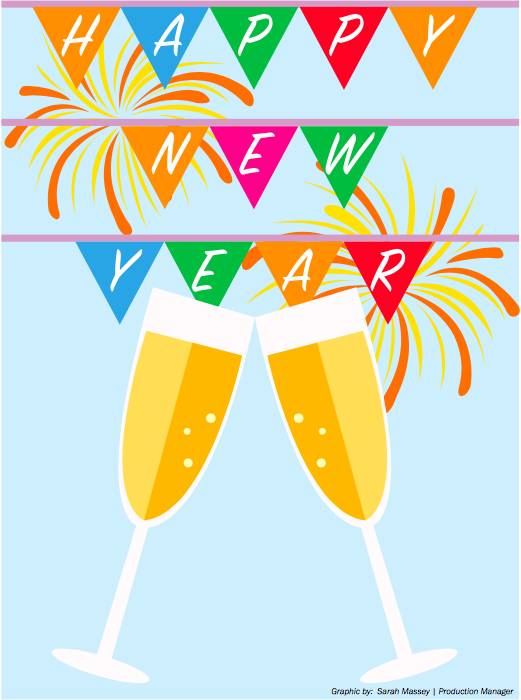 As students welcome 2019, Ferris hospitality management freshman Emma Franklin begins her New Year's resolution of readjusting her goals and studies.
Previously a pre-science major, Franklin switched to hospitality management as she realized science wasn't what she was looking for. Now, with a new major and a new college on the horizon, she's looking forward to the new year.
"I guess I'm just going to have to gure out how to really study. I just really want to improve rather than feel like I'm trying to catch up," Franklin said.
Though Franklin had goals of her own and found the holiday interesting, she believed New Year's resolutions don't have to begin on Jan. 1.
"I think it's interesting that we do New Year's. It's a cool idea to have a fresh start but it's nothing you can't start any other month. I think people procrastinate their goals until the New Year's just so they can say it's a fresh start. I think it's interesting that we put such an emphasis on it," Franklin said.
While many people set large goals in the hopes of achieving them, Franklin found incorporating small changes into her lifestyle to be more successful. For those who have made and kept resolutions in the past, some easy tips include making the goal tangible, keeping it simple and believing in oneself.
"I think we put on higher expectations on our resolutions. 'It's a new year, so I'm going to change completely who I am rather than make small changes,'" Franklin said. "We should set small, attainable goals rather than just 'here is my goal, I'm going to reach it.'"
Altering old and forming new habits can be a difcult process for many people. Research from the University of Scranton suggests only 8 percent of people achieve their resolutions.
"I think it's really hard to form new habits. It's something you have to keep up with regularly before it can become something you do subconsciously," Ferris pre-med sophomore Tara Kremhelmer said.
However, while making larger goals can be a much more difcult task, making smaller goals or even having long term goals with objectives can often lead to more tangible success.
Ferris pre-pharmacy sophomore Brianne Rogers prepared for 2019 by setting simple goals for her future, claiming that having self-discipline is important to make it easier on yourself.
"I'm on the soccer team, so I want to have a really good season for 2019 and continue to do well for school," Rogers said.