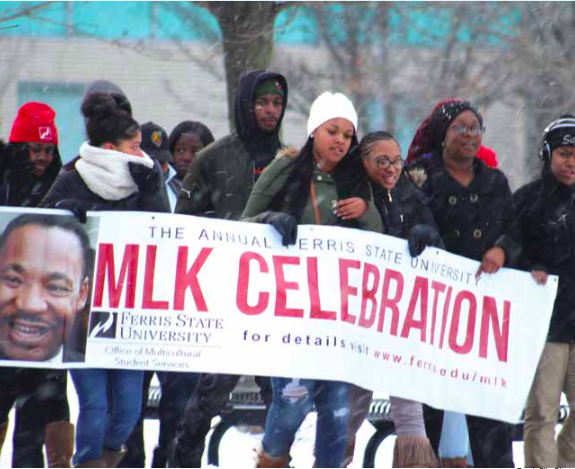 The beliefs expressed by Dr. Martin Luther King Jr. continue to hold great signicance throughout Ferris' community.
In fact, his teachings inspire and drive students every day. This year, Ferris' three-day annual celebration is Monday, Jan. 21, to Wednesday, Jan. 23.
"His teachings have motivated me to step outside of my comfort zone, interact with other cultures and try to learn about other cultures, not just my own," Ferris business administration junior Rodney Williamson said. "MLK Day is important to students here at Ferris, especially for African-Americans, because we're outnumbered. It's helping other people reach out to us, and we can reach out to other people to help them not only get through school and college, but also just to get through life."
Most famous for his belief in advocating for civil rights without using violence, King's teachings are still making waves in our society 50 years later.
"Martin Luther King Jr. had a positive impact on America. I think a key part of what he did was making sure his interventions were peaceful. He identied a problem and then did what he had to do to make change, yet he did it without violence," Ferris social work senior Nicholas Hadley said. "I think that if people could remember the idea of remaining peaceful, society could move forward in many different areas."
According to Hadley, who is also President of the Social Work Association, King's ability to fight for what he believed in without using violence is what impacted him the most.
"The Office of Multicultural Services and the Social Work Association have recently worked together on a few different events, and when Michael approached me about sponsoring this one we were happy to help," Hadley said. "I think keeping this celebration a tradition is wonderful. I see it as an opportunity to celebrate the progress that has been made while also reigniting a desire to continue to work for a much-needed change in society."
In previous years, Hadley had attended MLK day events, but had never been a part of the planning process. He became involved in planning through Michael Wade, Assistant Director of the Ofce of Multicultural Services at Ferris.
"The MLK Celebration truly is a great example of collaboration and commitment to providing an opportunity for cultural awareness and diversity on our campus," Wade said. "My favorite part about being involved with the MLK Celebration is being able to work with faculty, staff and students from across campus to coordinate the events and initiatives."
According to Wade, he has been involved with MLK Day at Ferris since he was an undergraduate student. He has been on the committee since 2007, and in 2008 became chair for the MLK celebration.
"Many students come from communities where there is not much celebration on the holiday, so having one on campus has I feel impacted them positively to appreciate Dr. King's relevance and overall importance," Wade said. "Our goal each year is to honor Dr. King's legacy, address social justice issues of today and to create opportunities for our campus to engage and learn from one another."
All events are free and open to the public and will include the annual events such as the Freedom March and student tributes.