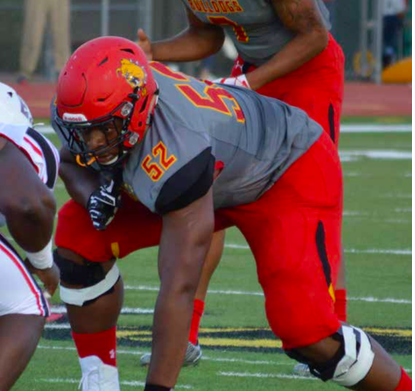 Ferris senior offensive tackle Devon Johnson recently made the trip to California to compete in the National Football League Players Association (NFLPA) Collegiate Bowl.
The bowl game, which has been around since 2012, was made for college athletes that do not have the opportunity to play in a bowl game that Division I teams do. Many players from Division II are represented in this bowl game, and all 32 NFL teams have their coaches there to watch and scout these athletes. Johnson, who was with the Bulldogs for five years, credits his success to Ferris football head coach Tony Annese.
"Without Coach Annese I wouldn't be in the position I am," Johnson said. "Coach Annese gave me an opportunity to play at Ferris and he motivated me to the player I am today."
The NFLPA game was hosted Saturday, Jan. 19 in Pasadena, Calif., where the historic Rose Bowl is held every year. Johnson traveled there about two weeks before the game and began practicing with his new team.
"Mentally, I've practiced all week and been having a lot of fun with new things and learning about a lot of new stuff," Johnson said. In the 2019 game, Johnson was competing on the National team. The American team ended up winning the close game with a final score of 10-7, but although his team didn't win, Johnson still said it was worth the experience.
Being one of the starting players for most of his time with the Bulldogs had also prepared him for the game.
"Everything at Ferris helped me a lot. I just love playing here and representing Ferris State," Johnson said. "I'm just trailblazing for everyone who's going to come after me. A lot more people from Ferris will go to collegiate bowls and NFL bowls. So, there's a lot more to come for sure."