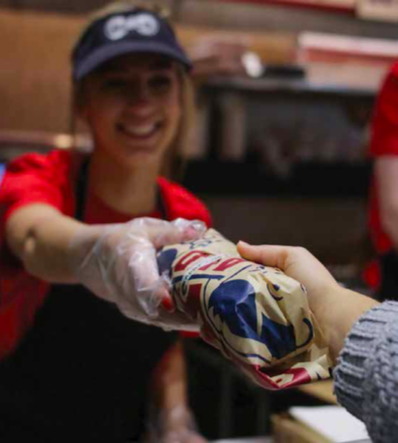 After its official Ferris opening Monday, Jan. 14, Erbert & Gerbert's has already been receiving praise from several students.
"It's nice. I think that it's better now that we have it because as for before, we didn't really have a lot of options around campus," Ferris criminal justice freshman Tasia Eddins said. "We needed something new to spice up things."
The new eatery, located in the Interdisciplinary Resource Center, offers a variety of sandwiches, soups and sides, as well as a breakfast menu, according to Ferris Retail Dining Services Manager Laura Seay.
"There's a high need for food in this area. Starbucks was very successful and they didn't really have a lunch option, so this way, you get best of both worlds," Seay said.
Many students and faculty members were disappointed with the closing of Starbucks during the Fall 2018 semester but select beverages remain on the menu.
"We still offer frappuccinos and our core beverages: your lattes, caramel macchiatos, we have our iced teas, iced coffee, and refreshers will come in March. So we've got everything, it's just not everything, if that makes sense," Seay said.
However, Ferris public relations and marketing sophomore Lillian Brown believes the dual set-up of Erbert and Gerbert's with Starbucks can be complicated.
"If you order Erbert & Gerbert's and Starbucks, you have to go to one side to wait for your sandwich and then the other side to get your drink, so it's a lot more running around for everyone. There's really not a better way to do it as of right now," Brown said.
As part of the meal exchange program, students can order select sandwiches, chips and a drink by using a meal swipe or Bulldog Bucks.
"I feel like it's good we can use meal swipes and we don't have to use cash if we really don't have it. And it's a good, wide selection of sandwiches to pick from," Ferris social work freshman Jahne Gollman said.
Sandwiches on the menu may be altered to create custom options, and vegetarian and gluten-friendly selections are also available.
"Not a lot of people have sandwich shops around campus. They have like Chipotle or Chick-Fil-A — the fast foods. It's a good way to support people cutting back on calories and eating healthy," Gollman said.
Erbert and Gerbert's is themed as a series of bedtime stories told by a father to his children. Each sandwich on the menu is named after a character from the stories. Students can read about the history on the wall next to the shop.