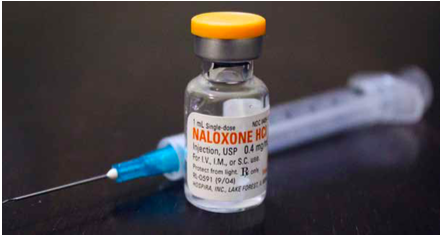 Amid America's current opioid epidemic, many police officers have started carrying Naloxone, including Ferris' Department of Public Safety (DPS) officers.
Naloxone, the generic version of Narcan, is a drug used to reverse opioid induced overdoses and is available in three forms: injectable, autoinjectable and a nasal spray — the latter, which was donated to Ferris DPS, will be the form carried by officers. According to drugabuse.gov, at least 26,500 opioid overdoses were reversed by Naloxone in America between 1996 and 2014.
"Although we haven't really identied an issue on campus, we know [overdoses] can happen to anyone anywhere. Every Ferris police officer has been trained and every one of our patrol cars will be equipped with Naloxone, and officers will be able to, in an emergency if they suspect a drug overdose, to administer Naloxone," Ferris DPS Director Bruce Borkovich said. "The officers aren't expected to be doctors, they may not know what's going on but if they suspect that it may be a drug overdose, they may administer Naloxone and if it's [not an overdose], it doesn't hurt them. It's a pretty safe drug to use."
Though the addition of Naloxone to officers' patrol vehicles isn't the direct result of any incidents at Ferris, Mecosta County hasn't been spared from the negative impact of the opioid crisis in America. Between 2013 and 2017, 204,972 opioid prescriptions were dispensed in Mecosta County. This averages out to 40,994 per year, almost enough for one prescription per person in Mecosta County, which had a population increase to 43,391 in 2017. During that same time span, nine people in the county died of opioid overdose.
"In Grand Rapids, from the Red Project, cocaine — over 80 percent of the time — has fentanyl in it. That means that people who don't usually use opioids and don't know how to combat opioid overdoses are getting overdoses. So police having Naloxone will combat that issue amongst college students who aren't notorious opioid users, but are notorious drug users of MDMA and cocaine and other things getting fentanyl in them," Ferris philosophy junior and vice president of Students For Sensible Drug Policy Zachary Deubel said. "The police force having that really shows that they care about us, and that drug users are still people and that we deserve to get saved."
The use of Naloxone has been controversial over the past several years with many arguing that freely administering the drug allows drug users to be reckless and encourages drug use. Some Ferris students had similar thoughts on the introduction of the drug to the DPS police force.
"I obviously don't think that someone should die just because they did drugs, but I also think that in general you shouldn't be doing drugs in the first place. It's a choice that you make. Reversing it is good because you don't want them to die but it's also kind of dumb because if you don't do drugs in the first place then you wouldn't need that help," Ferris criminal justice sophomore Rena Bernardi said.