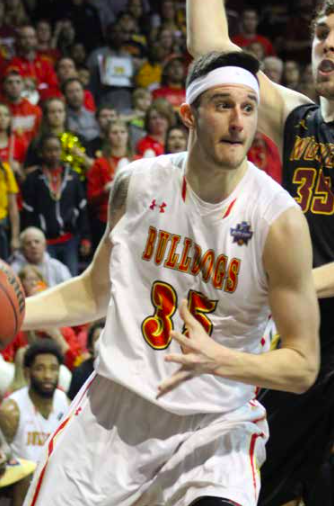 In the midst of celebrating their first National Championship last year, the men's basketball team faced a bittersweet moment when it was officially announced that starting center Zach Hankins was going to transfer.
The loss of their starting center, who transferred to Xavier University to play Division I basketball, was not the most surprising news, however, as Hankins had an incredible season to guide the Bulldogs to the National Title.
Another reason this move came as no surprise was the discussion before the season even started that Ferris men's basketball head coach Andy Bronkema had with Hankins about his interest in playing at the Division I level.
"Bronkema and I had talked about it before the season started just to get it out of the way. I really even had the choice about which school I would go to picked out for the most part," Hankins said. "So, I just treated it like my senior season with the other seniors on the team and was 100 percent focused on winning a national title." That focus paid off for not only the team but also in terms of individual play as well, as it was a spectacular season for Hankins that culminated in him winning the Division II National Player of the Year Award.
In the 2017-18 season, Hankins averaged 15.1 points per game on 63 percent shooting. He also averaged 9.7 rebounds per game and 3.3 blocks per game to lead the Bulldogs in all four categories.
He left Ferris as the all-time leader with 319 blocks and a .666 field-goal percentage. On top of that, he also holds single-season records with 380 rebounds (2017-18), 71.1 field-goal percentage (2017-18) and 130 blocks (2016-17).
This season he has gone from best Division II player in the nation to a solid role player who has adjusted well to the Division I level and shown that this is where he belongs after being overlooked coming out of Charlevoix High School.
"I was able to get used to the speed of the game and the athleticism throughout the time I put in during the summer and the practices going into the season," Hankins said. "It was a decent sized jump in terms of size and athleticism though. Playing against more guys that are 6-foot-5 instead of a lot of guys being around 6-foot-1 at the D2 level."
His stats certainly help show that he's used to the competition at this point in the season as well. In 19 games played and seven starts this season, Hankins has averaged 10.5 points per game on 71.2 percent shooting. In his 20 minutes per game, Hankins also averages 4.9 rebounds and 1.4 blocks.
Despite his personal success, the wins haven't come like they did at Ferris for Hankins and Xavier.
While the team hasn't necessarily achieved the success thus far this season that it has hoped for, sitting at 11-8 and in danger of missing the NCAA tournament for just the second time in the past 18 seasons, this move hasn't been a loss, especially for Hankins.
This season, Hankins said he has accomplished his goal of playing big-time Division I basketball and has done so at a high level, and that in itself is something to acknowledge.