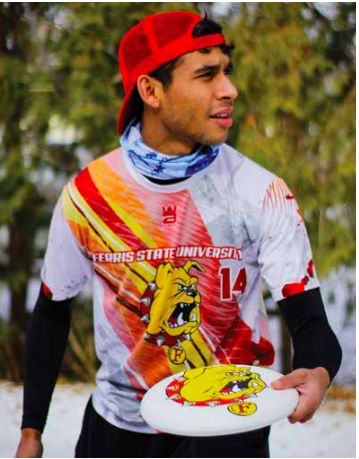 Ferris construction management senior Kylie Steele is enjoying the cold weather by participating in this semester's Get Outside event.
Beginning in Fall 2018, the Ferris Get Outside event encourages students to photograph themselves doing different outdoor activities. There are multiple categories students can submit their photos to in hopes of winning various prizes.
"I think some students here don't realize what they can do outside," Steele said.
Ferris Get Outside was inspired by a fall 2017 event, Outdoor Nation Challenge, that was hosted by the nationwide Outdoor Foundation program. When the challenge ended, Ferris adventure coordinator Jayna Wekeman and other staff members wanted to continue the challenge while inviting other Ferris employees, students and community member to participate.
"The first fall we clocked in, I think, almost 2,000 pictures of different people's stories of how they're getting outside," Wekeman said.
Wekeman viewed this 2018 challenge as an opportunity to speak with other staff about the effects of engagement and how many people could get involved, including parents of students.
The additional bonus of a potential prize and a special feeling of achievement are but two perks of the event, according to Ferris welding engineer and technology senior and 2018 Get Outside category winner Cassandra Machin.
"I don't know to explain it, but it was really cool and just a great feeling," Machin said.
For those who missed Ferris' Fall 2018 challenge, Ferris Get Outside challenge will continue throughout the semester with varying themes for eachmonth.
Participants can join until the last month with submitted pictures taken between Jan. 1 and April 30.
For more information, students can follow @ FerrisUREC on Facebook or call UREC at 231-591- 2679 or 231-591-5308.