When looking to improve their game many student athletes look to the professionals in their sport.
Each Ferris athlete has their own skill set and style, but many of them have players who they admire and model parts of their play after.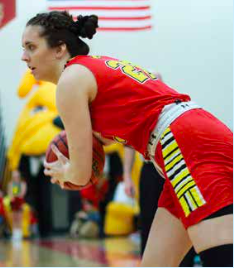 When it comes to women's basketball, many people immediately think of the success of the University of Connecticut Huskies and Ferris junior guard Riley Blair finds her inspiration in one of their past players.
"I really love the way Breanna Stewart plays," Blair said. "She's quite a bit taller than me but she's super versatile, and that's something I have really tried to incorporate into my game."
Stewart was with the Huskies from 2012—16 and went into the Women's National Basketball Association after graduating. A role model for many female athletes, Stewart is known for her positive demeanor on the court.
"She also always looks like she's having fun when she's playing," Blair said. "Which is something I focus on as well."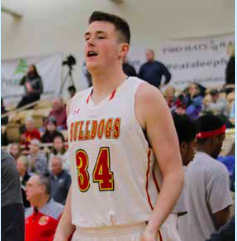 For Ferris junior center Cole Walker, he looked to the National Basketball Association to nd his role model.
"I looked up to Dirk Nowitzki because he is a post player but he can do all things in the game of basketball," Walker said. "He can do things a post player is supposed to do, and he can also take the ball out and be a guard."
Nowitzki has played for the Dallas Mavericks since 1998 and has led them to 15 playoff appearances, along with the franchise's only NBA championship in 2011. He's also a 13-time All-Star and the rst European player to receive the NBA Most Valuable Player award.
Ferris freshman forward Hunter Wendt has a few National Hockey League players he looks up to and tries to emulate on the ice.
"From the first time I started playing hockey, I loved watching Steve Yzerman from the Detroit Red Wings," Wendt said. "But I think I model my game after Tyler Johnson. He is a forward on the Tampa Bay Lightning. I think I play like him because he is a small, skilled, hardworking forward who isn't afraid to get in the dirty areas of the rink."
Johnson went undrafted coming out of his junior hockey league career but was signed by the Lightning. In his rookie season he had 24 goals and 26 assists and was a nominee for the league's top rookie.