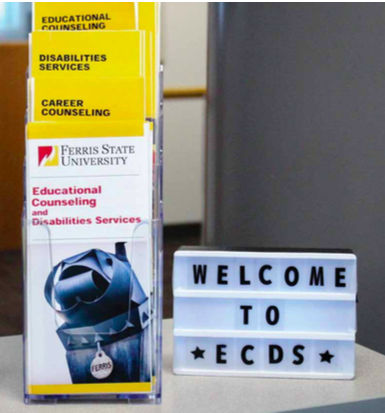 Previously located on the third floor of the Starr building, which was inconvenient to some, the Educational Counseling and Disability Services (ECDS) office has officially moved to ASC 1017.
Many Ferris students found difficulties with ECDS's previous location. There were a series of staircases that led to the previous office, and students often struggled to find the location of the third floor.
"The last location felt like it would be hard to find, especially for incoming freshmen," Ferris pre-nursing freshman Elizabeth Lalone said. "You would have to ask a bunch of people to find it, that's what I had to do. Having it be here is a whole lot easier to find."
Not only does the new location provide ECDS with the space necessary to properly help students, but more importantly, it gives students more comfortable access to the office.
"Being here with an elevator right next to it, and it being in an area that is very open and accessible to people who do need to use disability services, it was a great idea that they moved,"
Lalone said. "I like the new location. I think it's very much convenient. It's easier to find for people who don't know where it is."
ECDS offers students many accommodations, such as for tests, emotional support animals, as well as mobility support, according to Ferris game design and digital animation freshman Valerie Guerra.
"I love it here. The counselors here are really nice, very helpful and very chill," Guerra said.
Guerra, who also works at ECDS, said that other students seem to enjoy the new location.
"We are more accessible, easier to find and more centrally located than where we were located. We also have more testing space for students who utilize our testing services." Ferris Educational Counseling and Disabilities Services Secretary Ashley Hawley said.
The Educational Counseling and Disabilities Services Office can assist students with a variety of services, including educational counseling, career counseling and disabilities services.
For more information, contact the office at 231-591-3057 or ecds@nullferris.edu.