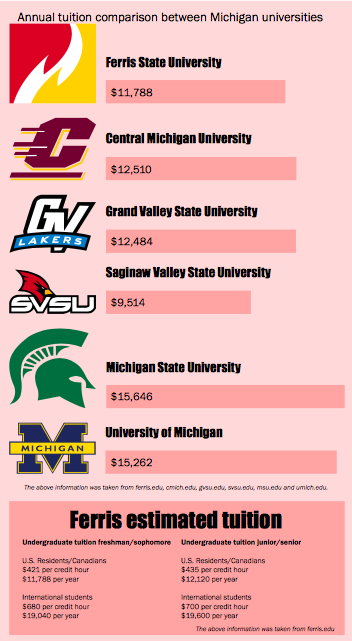 A college student typically has a lot on their plate and not a lot in their wallet, which is especially true for students who pay their own tuition.
The annual cost of tuition depends on a variety of factors, but at Ferris, it is estimated to be about $11,788 for freshmen and sophomore U.S. residents and $12,180 for junior and senior U.S. residents.
This cost does not include additional expenses, such as room and board, food or books, so budgeting can become an essential factor.
"My biggest advice would be, make a budget and stick to it. I understand that you see that cute pair of shoes that are $100 at the store, but you have to think, 'Is that cute pair of shoes going to buy me dinner?'" Ferris secondary education sophomore Amanda Marsh said.
Many students at Ferris pay for the cost of tuition without family assistance, which can result in additional responsibilities beyond focusing on education.
"During the semester, I work for the college, and I only work during the semester about 15 to 20 hours, just with homework and stuff like that. But over the summer, I'll work as much as 60 hours a week back home," Ferris computer information technology senior Steven Rhein said. "When there's downtime, if you can, work. Work is so important."
However, not everyone has the time to work, and expenses must be paid through alternative methods.
"I quit my job so that I could go to school full time," Marsh said. "I will be heavily in debt. I have to take out a loan every year I'm here, and I have probably three more to go."
According to Federal Student Aid, an Office of the U.S. Department of Education, loans are one of three types of federal student assistance. Loans are borrowed money from a college and must be paid back with interest.
Ferris nursing freshman Kayla Drew pays her own tuition, using loans to cover about half of it.
"By the time I get out of Ferris, I'm going to be at least $40,000 in debt. That's a lot of money compared to my parents who came out with like $20,000. I worry about not being able to pay for all of it on a nurse's salary," Drew said.
In addition to loans, students may receive financial aid through work-study, scholarships and government grants that do not need to be re-paid.
"Scholarships helped a lot. That was probably the only reason I was able to come through here because they gave me quite a bit for scholarships, so that was really nice," Drew said.
The Free Application for Federal Student Aid (FAFSA) determines aid eligibility based on expected family contribution and other factors, which can be difcult for students who pay tuition on their own.
"There are times when the tax laws do not help independent students at all. My financial aid has been up and down because of selling our house in Tennessee and moving here, so one year I get a lot of help, and one year I get none," Marsh said.
Offering payment plans is one way that Ferris attempts to help students paying their own tuition.
Multiple payment plans are offered with the hope to minimize loan debt, Ferris Student Financial Services Manager Erin Diehm said. Students can preview payment plans before enrolling.
"We see that anywhere from 1,900 to 2,500 student accounts per term in a fall or spring semester are enrolled in a payment plan. Enrollment can be completed by authorized users or students. Payment plans give the exibility to students to pay towards their bill over three to four months, depending on the plan a student chooses," Diehm said.
More information regarding scholarships can be found by contacting the Office of Scholarships & Financial Aid, located on the firstfloor of the Timme Center. Walk-in hours are Monday through Friday 8:30 a.m. — 4:30 p.m.
The Student Financial Services' service counter is open Monday through Thursday 8 a.m — 5 p.m and Friday 8 a.m — 4:30 p.m.