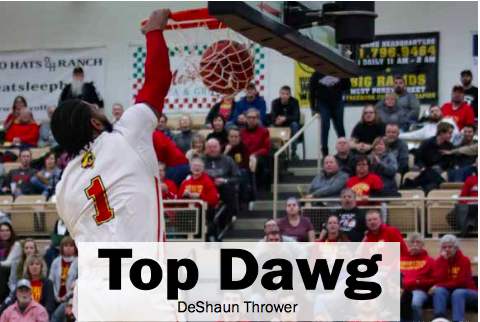 Whether it is on the grass or on the hardwood, DeShaun Thrower gets the job done, which makes him this week's Top Dawg.
The Bulldog men's basketball team had a tough challenge ahead of them before the weekend started, which included facing off against Great Lakes Intercollegiate Athletic Conference (GLIAC) rival Lake Superior State University (LSSU). With both teams tied in the top spot in the North Division, and with LSSU giving Ferris its only loss last year, the Bulldogs seemed ready for revenge against the Lakers. While a team effort gave the Bulldogs the lead, Thrower made his presence known.
Saturday, Jan. 26, the senior point guard put up 22 points, seven assists and six rebounds during his 30 minutes on the court. He scored his first basket three minutes into the game and seemed not to miss a beat for the remainder of the contest, where he only missed seven shots out of 18 attempts.
While the score was fairly low when Thrower started, his tempo geared the Bulldogs the momentum to get the win.
Thrower plays a key role as one of the starting five for the Ferris basketball team. Most of his absence in the beginning of the season was due to his integral part of the Ferris football team. The men's basketball team went 5-4 under his absence. Upon his permanent return to the court after football season's conclusion, the team posted a record of 8-2 with all but one seeing double digit points from Thrower.
In 13 games played this season, Thrower leads the team with 16.7 points per game, and clocks in third in average time on the court.
Thrower may be the spark that the Bulldogs needed after a dominating win over LSSU. Thrower and his teammates square off again 8 p.m. Thursday, Jan. 31, when the Bulldogs face the Saginaw Valley State Cardinals on the road.