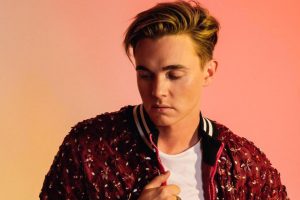 It is bound to be a trip down memory lane at Music Takes Action (MTA) 2019.
Entertainment Unlimited announced that Jesse McCartney is set to headline the annual concert, which will be taking place 7 p.m. Saturday, March 30 at Wink Arena.
The doors will open at 6 p.m. Tickets can be purchased at the Entertainment Unlimited office in University Center 121B as part of the $5 student rush sale until Friday, Feb. 8. General admission tickets can then be purchased beginning Monday, Feb. 11, at the Wink Arena box office for $10. Tickets can also be purchased online through Star Tickets and students will find the link on the MTA Facebook page when it is active.
McCartney is known for his songs from the 2000s, such as "Beautiful Soul," "How Do You Sleep?" and "Leavin'." He also acted in "Alvin and the Chipmunks" and the Freeform show "Young and Hungry."
Student reactions to the news were mixed. Some students, like Ferris elementary education sophomore Lauren Jones, were excited.
"I'm really excited. I think it's going to be awesome. I think he's really well-known, so I'm hoping that a lot of people are excited," Jones said. "It's a big event that anybody can be a part of, and it's easily accessible because it's in Wink Arena, which is on campus."
However, some students were disappointed about the artist.
"I don't really know Jesse McCartney. I thought he seemed kind of old-timey, boy-band like. Just like a classic heartthrob, so I wasn't super thrilled when I heard," Ferris environmental biology sophomore McKenna Saunders said.
Many students said that MTA is a fun event that is affordable and worth attending for the experience. Ferris plastics engineering freshman Zackery Backus said that he does not know a lot of Jesse McCartney's music, but will probably still attend the concert.
"I'm honestly probably going to end up going," Backus said. "I really don't know too much about him, but since I've heard that it's him, I've heard that name before, so I'm definitely interested in going, especially if it's only a $10 ticket."
Student input was considered through a survey to select the artist, Ferris music and entertainment business junior and Music Takes Action Student Coordinator Ally Bala said.
"We kind of knew a genre that we wanted to go with already, and this genre, pop, was the most popular, so we went with that and we based it off the artists that were most chosen. Some were out of budget, but Jesse was in our budget," Bala said.
Students are also given the option to meet Jesse McCartney following the show with the purchase of a $40 meet and greet pass. They will be on sale beginning Monday, Feb. 11, in the CLACS office using cash, or on the MTA Facebook page via credit card. In previous years, students had to win meet and greet passes, but the new system this year allows anyone to purchase them, Bala said.
The concert is a benefit event, with proceeds from this year being donated to i understand (love heals). i understand is a non-profit organization dealing with mental illness and suicide, according to the MTA Facebook page.
"It's nice that we can bring a well-known act to our little town of Big Rapids, and have the students get to go for only $5 to $10 to see someone like that, I think is really cool," Ferris music and entertainment business junior and Music Takes Action Student Coordinator Taylor Funari said. "It's really cool to come together to have a good night with all your friends for a good cause."