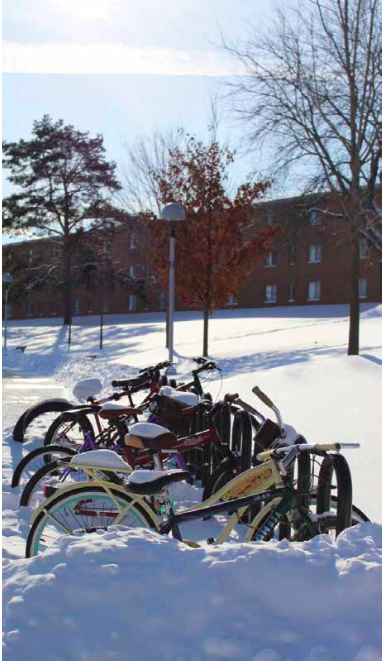 With the polar vortex sweeping through the state, many students were reminded just how important winter safety is.
"I got stuck twice in one day," Ferris general studies junior Jacob Fracier said. "I went to my car over in Lot 28 and started it up. I got stuck in between the aisle and the parking spot. I had to run over to my girlfriend's house, all the way across campus. She couldn't get out either, so I got a shovel and then had to shovel it out.
"Then, I went to Lot 54 and decided to park it there, and they didn't plow the parking lot. I have a Civic, so I got stuck again," Fracier said. "I just rocked it back and forth, putting it in park then reverse."
Stories such as Fracier's were heard and experienced by many Michigan residents. Thankfully, Ferris worked hard to keep students safe all week and their efforts were widely noticed.
"The sidewalks are as clean as they can get them. They're trying to put down as much salt as they can and plow as much as they can. I think they're doing fairly well," Ferris general studies freshman Lilie Totton said.
Despite the salt team's best efforts, the curbs remain a safety hazard at the university. Ferris Department of Public Safety Chief Bruce Borkovich cautions students around campus to be mindful of this when they are walking.
"The area that we've seen that causes the greatest amount of falls and issues are curbs. Any area that is sloped down, the salt can't stick on those curbed areas and angled areas," Borkovich said. "Many times, a person is walking, and things are pretty good. You're moving right along and then suddenly you hit the curb and slip."
Borkovich said police officers are positioned on campus 24/7, and when they recognize dangerous weather conditions, they call the Physical Plant. The Physical Plant is responsible for the maintenance of the university's physical environment.
Ferris Physical Plant Associate Vice President Michael Hughes urges students to avoid using cellphones and ear buds in cases of inclement weather.
"While we do our best to keep the campus clear and safe during inclement weather, we cannot control all the factors and conditions of Michigan weather," Hughes said. "There is an element of personal responsibility that is incumbent on all of us for our personal safety. Dressing appropriately and being aware of the conditions outside are a big part of this."
Hughes said a group of university administrators are convened as early as 4:30 a.m. to discuss and evaluate weather conditions to determine if it is safe to hold classes.
"During the recent ice storm, a couple of weeks ago, we used approximately 80 tons in just two days," Hughes said. "In each of the last two years, we have increased our salt order by 50 tons each year. This current season's total inventory was 400 tons (800,000 pounds) of salt. That does not include sand product that we also stockpile and utilize over the course of the winter season."
Based upon this year's weather, the Physical Plant expects to increase next year's salt order by another 50 tons.