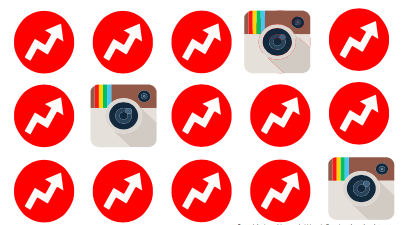 Ferris advertising/integrated marketing communications alum Daniella Sanchez was one of 15 contestants chosen to participate in Buzzfeed and Instagram's VerticalU program.
According to variety.com, Buzzfeed and Instagram chose 15 video creators to visit Los Angeles, California, in December 2018 where they produced content for Instagram Television (IGTV). The chosen contestants were given a five-day VerticalU training series that included workshops, panels, presentations and hands-on production exercises from Buzzfeed and Instagram professionals.
"Vertical video is essentially video optimized for mobile — 9×16 instead of 16×9 aspect ratio," Sanchez said. "This project is specifically for IGTV, which is long-form vertical video."
After spending roughly eight hours on her pitch deck and application materials, Sanchez was chosen for a follow-up video interview and was later flown to West Hollywood.
"Instagram actually hooked us up with a suite. It was super nice. They also covered all of our travel expenses and food costs," Sanchez said.
Passionate about filmmaking since she was 11 years old, Sanchez has spent her life practicing and learning about videography, participating in YouTube NextUp events and growing her YouTube channel to more than 100,000 subscribers.
"I love finding creative ways to tell a story," Sanchez said. "There are so many different approaches to spread a message, and it's always an adventure to find compelling ways to get your point across and share it with the world."
Sanchez enjoyed learning from the Buzzfeed and Instagram creators, as well as meeting new faces along the way.
"I spent nearly a week with her, learning all things on creating vertical content," Eater blog editorial assistant James Park said.
Park met Sanchez in Los Angeles through the VerticalU program where he learned about Sanchez's past work and connected with her positive personality.
"Dani is super funny and definitely has a great grasp of what is funny to an online video audience," Northwestern University (Evanston, Illinois) journalism senior Sam Schumacher said.
Schumacher was another VerticalU contestant familiar with Sanchez's work.
"Dani's channel on YouTube is a lot of Pokémon-related content. She's really into it and her enthusiasm shows through," Schumacher said. "Her pitch to VerticalU has nothing to do with her current work though, so I'm interested to see how it turns out."
After meeting new videographers and making lifelong connections, each creator had to pitch their VerticalU idea and was given a $1,000 production grant to create their final projects. These projects were given a six week deadline and will be unveiled at the end of February.
"I loved being able to collaborate with other video creators and workshop our ideas. It's a rare feat to have that many creative and open minds in one room talking through a concept," Sanchez said. "I also loved how insightful all of the people from Buzzfeed and Instagram were. They gave us an arsenal of knowledge for creating content on social media going forward."
Sanchez will be screening her final product Feb. 28 at Instagram in New York City.