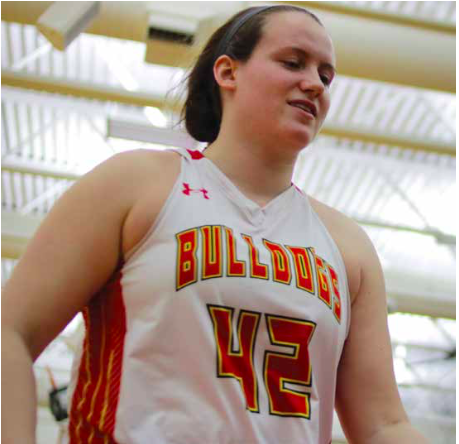 Ferris women's basketball head coach Kendra Faustin said she doesn't think there's anyone more suited to be a coach than Ferris senior forward Abby Nakfoor.
Nakfoor, an accounting senior, had planned on becoming a head coach after graduation and was selected to attend the three-day program, "So You Wanna Be a Coach," held by the Women's Basketball Coaches Association April 3-5. This is the event's 17th year and it provides a learning opportunity to young women around the country who aspire to be a coach.
Nakfoor was excited to learn about the opportunity she was given and is one of two women from the Great Lakes Intercollegiate Athletic Conference going to the coaching workshop.
"It was kind of a surprise, since there are a lot of schools that they take into account when they do the selection, so the fact that I got chosen was really exciting for me," Nakfoor said. "I'm really excited for this opportunity because it's an opportunity that not a lot of people get, so I'm excited to represent Ferris."
Nakfoor came to Ferris after playing volleyball and basketball at Dewitt High School, and she credits her head coaches for her motivation to be a coach.
Nakfoor has been on the Ferris women's basketball team for all four of her years at the university. Nakfoor helped the team last year in getting to the GLIAC tournament semifinals and hopes to finish her final season with the Bulldogs strong this year.
Faustin expressed her excitement for Nakfoor to represent Ferris at the program and said she is happy that Nakfoor can represent Ferris anywhere she goes.
"Abby is the ultimate leader by example, and she is the glue that holds our team together for sure," Faustin said. "I can't say enough that her work ethic is second to none."
The program is intended to provide connections with people already successful in coaching, according to Faustin, and she believes Nakfoor is a natural coach.
"I think when players get that transition to coaching, it's like a whole different world and just like any major change, you don't know until you know. I think Abby would be really good at it but also she will learn so much," Faustin said. "She does all the dirty work, she doesn't let up for one second. She, not just physically, but mentally and emotionally, is always in"
The purpose of this workshop is to teach the young women coaching ideas and strategies, but it's also looked at as a way of networking.
"I'll get to network with a lot of coaches and meet a lot of people," Nakfoor said. "Meeting people with the same interests I have and hopefully future mentors and people I look up to."
Nakfoor has also worked with coaching kids for Ferris by helping run the Ferris basketball camps. She is looking to one day be the head coach of a high school basketball team.
"I think Abby is a perfect t for this, I mean she's just the best teammate that I've ever played with," Ferris senior guard Alexis Bush said. "She just carries herself so well, and she's a great role model."
Bush and Nakfoor played together on a travel basketball team before playing four years at Ferris together. Bush also said that Nakfoor follows the core values of the team and is excited to see her represent Ferris.
Nakfoor has played an average of 5.3 minutes per game and had 1.3 points per game this season.