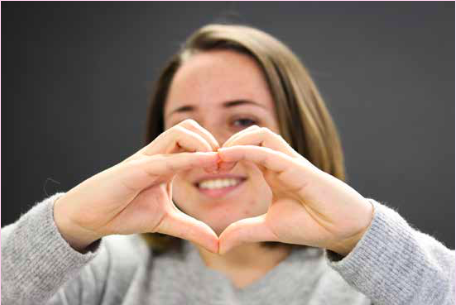 February is the month of new and old romance alike, with Ferris biology senior Nikki Beardsley spending her own Valentine's Day celebrating 10 years with her husband.
"My husband was my neighbor's best friend and the day I was moving out, they helped me out. We were friends for about a month before we started dating and we have been together ever since," Beardsley said.
Although Beardsley has known her husband Alex for 10 years, they've been married for six of them. As their relationship develops throughout the years, Beardsley thinks about all the things that brought them closer together and appreciates the lessons learned.
"Once these things are established, the rest comes easy. In anything, there will be ups and downs, challenges along the way, but being able to effectively communicate is how strong relationships get through them," Beardsley said.
Throughout their time together, Beardsley's husband has been her best friend since day one, having overcome many obstacles over the years.
One struggle Beardsley and her husband are currently facing is living two and a half hours apart. While Beardsley attends Ferris, her home is in Jackson, where her husband is a full-time student and works full time in Chelsea.
"Our relationship has always been strong, but it continues to strengthen every day," Beardsley said. "Nothing ever stays the same. The important thing is that you embrace the changes and let them help you grow and help your connection deepen."
The couple makes their relationship work by setting aside time for one another and focusing on communication through this time. Since they lead busy lives, Valentine's Day allows them to celebrate a tradition of dinner and a movie without cellphones or other obligations.
"Sometimes, you have to put your partner first, but do not forget to take care of yourself, too. You cannot make others happy if you don't also invest in your own happiness from time to time as well," Beardsley said.

As the Beardsleys celebrate their 10 years together, Ferris optometry O1 Blaze Sammon celebrates his six-month relationship with Ferris pharmacy P1 Lindsay Christensen after meeting in Henderson Hall four years ago.
"New romance is fun in the sense that you get the opportunity to learn about each other. As time passes, however, the bond has the ability to become stronger, in turn, increasing the connection and quality time," Sammon said.
Christensen said relationships tend to happen when you least expect it and flourish in a natural way, especially when you get to know the person over a period of time as she did with Sammon.
"We've both grown as individuals since we rst met freshman year and are very comfortable around each other now because of it," Christensen said.
Whether a relationship is old or new, personal growth will occur with each person, and learning how to communicate within that relationship is vital without losing a sense of identity, something Beardsley, Sammon and Christensen agree is true.
"Do not ever be afraid to be yourself, that is who they fell in love with," Beardsley said. "Keep in mind that you are constantly changing every day, that doesn't mean that you change for someone else. You change because you grow."