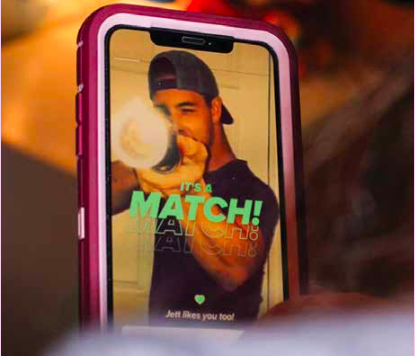 The dating scene can be a bit tricky, but Ferris elementary education senior Sarah Heibel has managed to find her relationship through apps like Bumble.
"I was first using the app for dates and then I actually met my boyfriend on there, and now we've been dating two years," Heibel said.
Heibel thinks dating apps and online dating have developed a bad reputation and are often seen as a primary source for hookups.
"I think people use them more for hookups because they might be lazy and don't want to go out. But if you're a busy person, I feel like they're a good way to meet people," Heibel said.
Over the years, the purposes for apps like Tinder have changed. When Tinder first became popular, co-creator Sean Rad expressed how it was used as a game in an interview with Time magazine.
"Nobody joins Tinder because they're looking for something," Rad said. "They join because they want to have fun. It doesn't even matter if you match because swiping is so fun."
According to a survey done by Simple Texting, approximately 40 percent of men and women surveyed are looking for a long-term relationship on the app, while others are looking to meet new friends, find casual relationships, get free meals or boost their self-esteem.
While many are still finding short-term connections, Ferris biology and pre-optometry junior Roger Maddux met his girlfriend of nine months through a dating app.
"I was using Tinder a couple of years ago for hooking up and then I ended up meeting my girlfriend on it and I haven't used it since," Maddux said.
Ferris construction management senior Michael Penland also recalls the days of using different dating apps before he was in a relationship, remembering how annoying they could be, but enjoying the overall benefits of online dating.