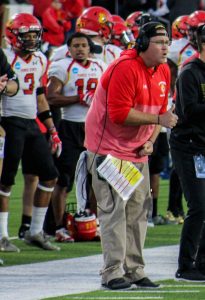 Steve Casula is leaving his position as Ferris State offensive coordinator to become an offensive analyst on Jim Harbaugh's staff at the University of Michigan.
The hire was first reported by The Athletic's Bruce Feldman and has yet to be officially announced by the Ferris football staff.
This move seems to be intended to help Michigan's offense and its expected transition to a more modern spread attack under Josh Gattis, who was hired as Michigan's new offensive coordinator in January. Casula has run a spread attack at Ferris that killed defenses at the Division II level.
Casula, a native of Delaware, has a connection to Gattis, having coached with him back in the 2011 season when Gattis was the wide receivers coach for Western Michigan University (WMU). Casula was in the second of his three seasons coaching tight ends and fullbacks for the Broncos.
Casula had spent the past two seasons at Ferris as the school's offensive coordinator working under Ferris football head coach Tony Annese. Casula also took on the role of coaching tight ends and running backs.
Under Casula's guidance, the Ferris offense put up huge numbers, a part of why the school went 15-1 last season, reaching the national championship as well as winning the Great Lakes Intercollegiate Athletic Conference (GLIAC). Ferris ranked ninth nationally in total offense this past season, averaging 491 yards per game and 7,863 total.
In addition to that, the Bulldogs ranked seventh in Division II in rushing yards per game, pounding the rock for 272 yards per game, which could be a big help to a Michigan team that will likely be adding some spread offense run concepts to their game.
These concepts were ones that Casula schemed up to perfection in his time coaching the Bulldogs, and it showed with some big seasons.
Under Casula, the Ferris running backs in particular were outstanding, gaining over 1,700 yards in 2018. That includes Ferris sophomore running back Marvin Campbell, who led the group with 874 yards and 10 touchdowns and earned second-team all-GLIAC Honors. Ferris senior running back Derrick Portis also chipped in with 523 yards and four touchdowns.
Another big part of that ground game was Ferris junior quarterback Jayru Campbell, who amassed 1,460 yards and 21 touchdowns while also winning the Harlon Hill Trophy for best player in Division II. The two Campbells, along with Portis, were just a few of the players who flourished during Casula's short time at Ferris.
Prior to coaching at Ferris, Casula spent three seasons at Davenport, serving as the school's offensive coordinator and later interim head coach. He also spent time at Colgate in 2013 coaching running backs and tight ends after his three years at WMU.
Casula started his coaching career back in his home state as a student assistant at the University of Delaware before moving up in the coaching ranks away from home.
Annese and Casula were not immediately available for comment.