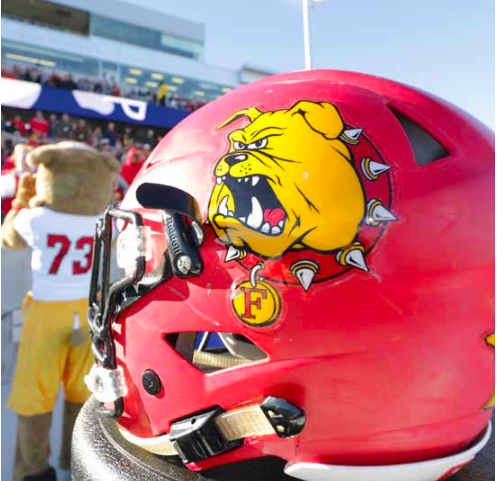 Dreams of playing collegiate football came true for 33 new Bulldogs on National Signing Day Wednesday, Feb. 6.
All levels of college football recently brought in players for the upcoming season. Some top prospects hold big press conferences with viewers anticipating which college logo hat the player will chose. Other players just sign their letter of intent somewhere in their high school with family, teammates and friends surrounded for support.
Ferris football head coach Tony Annese and Ferris Athletics held a press conference of their own, where they announced each signee and gave a brief explanation about the player. With 27 Michigan players, five Florida players and one player from California, Annese made sure that the players he got came for the right reasons.
"If a young player didn't claim that winning is extraordinarily important, then he was off our board," Annese said. "I keep on saying that the best is yet to come and that was kind of our recruiting motto with our guys that we recruited."
As the football team can see a bright future for all these athletes, there are a few that stick out. Notably, as Annese called him the "steal of the class" and a "very, very gifted athlete," is six-foot-one-inch wide receiver Tyrese Hunt-Thompson out of Beatty High School in Cassopolis.
The All-State pick and all-league honoree, Hunt-Thompson is a multi-sport athlete, playing both football and basketball, a trend that Annese likes to see in recruits. On the football field, Hunt-Thompson averaged nearly 12 yards a play while he scored 18 touchdowns during his final season. In his three seasons playing varsity football, he totaled over 4,000 all-purpose yards and played some time on defense, recording 100 tackles.
To keep things going on the offensive side and the multi-sport basketball side, a running back out of Denby High School, T'Shawn Wilkes, was recruited to help in the backfield for the Bulldogs. Wilkes earned many honors after his senior season with the most notable being the 2018 Detroit Public School League Offensive Player of the Year, which he earned by having rushed for 2,165 yards and 33 touchdowns.
"We're thrilled to have T'Shawn," Annese said. "He's going to be a great player here."
Lastly, a threat on both sides of the ball at defensive back and receiver is 170-pound Rayvon Williamson from Detroit Community High School. Williamson intercepted nine passes and returned four of them for touchdowns during his senior season. He also recorded 1,895 all-purpose yards and 27 touchdowns, and was tabbed as a Michigan High School All-State honoree. Williamson has played quarterback, receiver, safety, cornerback and linebacker, and is also listed as one of the state's top prep basketball standouts.
Recruiting has been a big factor that has played into the Bulldogs' success, and with these 33 new players Annese hopes that they can "strike gold" as they have in the past.