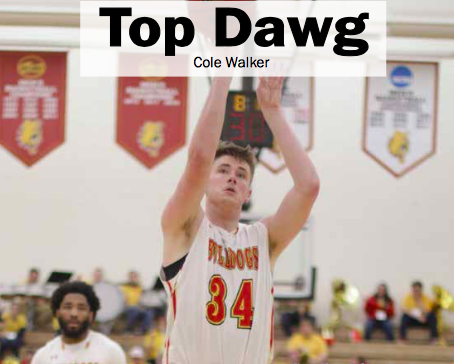 This week, the Top Dawg is Ferris junior center Cole Walker.
Walker had a breakout game Saturday, Feb. 9, in a 104-78 victory over the Wayne State University Warriors. The win, which pushed the Bulldogs to 17-9 overall and 9-6 in conference play, ended a two-game losing streak.
In the game against the Warriors, Walker had a career high 35 points and was 12-14 shooting from the field, while nailing nine of his 10 threes and both of his free throw attempts. The nine three pointers weren't only a personal best, but also tied the school's single game record originally set in 1991 by Leon Larthridge, according to the Ferris Athletics website.
On top of that, Walker chipped in six rebounds, dished out four assists and had one block to top it all off.
What made this performance for Walker even more impressive was the fact that it came out of nowhere.
On the season, Walker is averaging 10.8 points per game on 60.9 percent shooting overall, while knocking down 43.4 percent of his triples this season. He's also averaging five rebounds per game in 26 games this season.
While these are solid numbers, they didn't indicate a record-breaking performance was on the horizon.
Prior to this game, his season-high in points was 17, and that happened Dec. 6 in a win over Northwood University. Walker was also coming off one of his worst outings of the season, scoring just six points on 2-5 shooting in a loss Thursday, Feb. 7, to Ashland at home.
While some may call it a fluke, Walker believes that this game was just the start and a sign of things to come in the future.
"I was feeling good and my shots were dropping," Walker said. "My teammates recognized that and just kept feeding me the ball."
Walker and the Bulldogs are back 7:30 p.m. Thursday, Feb. 14, against Northern Michigan University, followed by the Bulldog's senior day in the home finale 3 p.m. Saturday, Feb. 16th, against Michigan Tech University.